Today was another long day, but a little less packed. I enjoyed it a lot, and every place we visited was amazing. We started the day as usual with breakfast in the hotel dining room, and they were actually serving pizza in the buffet. Naturally, I got some, but I did find it interesting. After breakfast, we got ready and headed for the bus. The day's itinerary, as I said yesterday, was Nazareth, the Golan Heights, Caesarea Phillipi, and Tel Dan.
We didn't really know what to expect in Nazareth since it was rumored to just be a modern village. However, we were very impressed by the tour. We got to see the ruins of a first century winepress very similar to Jesus's description of a vineyard in one of his parables. We also saw replicas of an olive press and a synagogue as well as an incredible display of ancient carpentry techniques.
In the Golan Heights, there was a lot of beautiful scenery but also a lot of dark history. There were actually a couple wars fought over this territory. Even today, there are still a lot of minefields that they don't let people go through. Ami told us a lot of stories about the wars as well as his own personal stories about being a tank commander.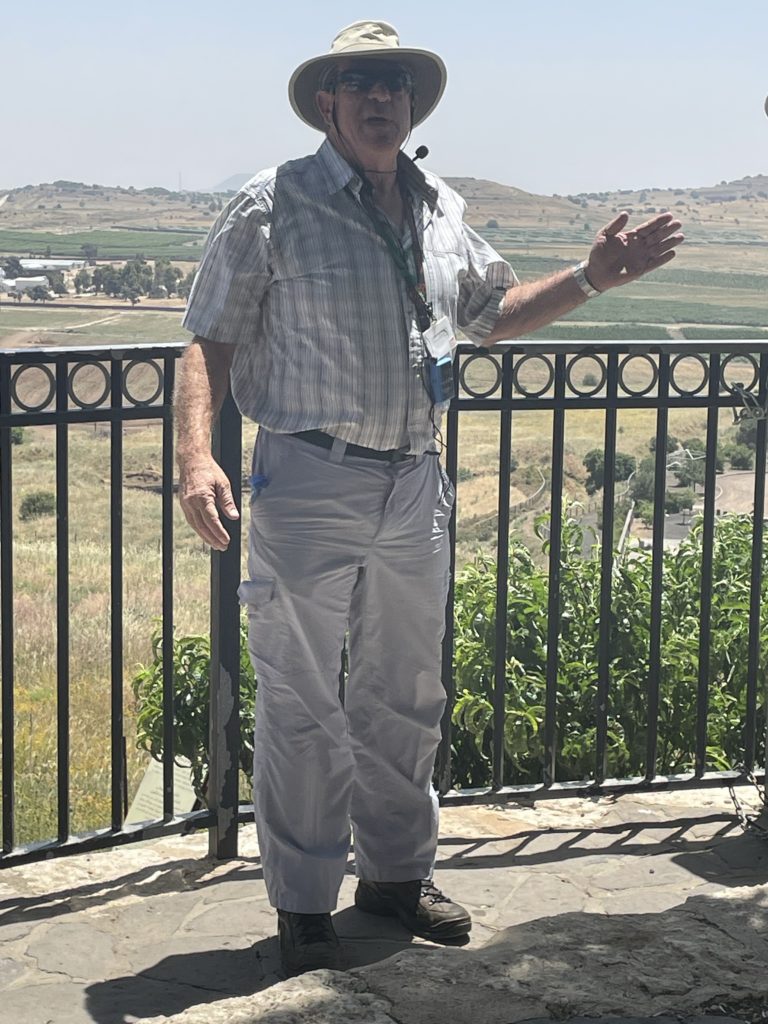 After stopping for lunch, we went to Caesarea Phillipi. This area was quite beautiful and also the location where Peter confessed that Jesus was the Messiah. We saw the ruins of the temple of Pan, who was one of the gods the people in Caesarea Phillipi worshipped.
We then cut off into a smaller group and went to the incredibly intact ruins of Herod Agrippa II's palace. Herod Agrippa II was a prominent figure in the book of Acts, and we actually got to walk inside the palace ruins. This is also the place where my dad broke his hand two years ago.
After we boarded the bus, we headed to Tel Dan. Here, the ruins were surrounded by a beautiful nature preserve. The archeological finds here were Jeroboam's Temple, the gate entrance to Laish, and the entrance to Dan.
We then traveled back to the hotel. We had a lovely dinner, and then we went to the boardwalk by the Sea of Galilee again so Mama could look at cats. I ended up getting to play piano by an overlook, and several tourists became my audience.
I've had a great day. Tomorrow, we leave Caesar Hotel to go to a resort by the Dead Sea. We also tour Bethshaan, Qumran, and Ein Gedi.