I slept much better last night and didn't wake up until my alarm went off at 6am. Sara followed soon after at 6:30am. We didn't get to see the sunrise today, but at least we got a full night's sleep.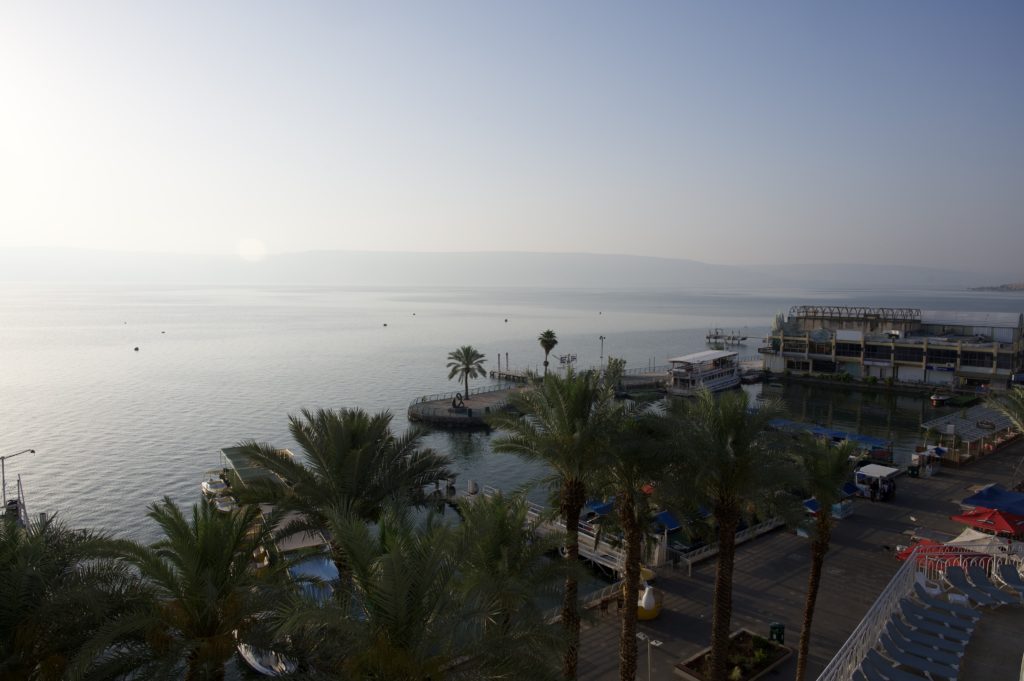 After breakfast in the dining room (had 4 cups of coffee today), we boarded the bus to head towards lower Galilee and the city of Nazareth. I had not visited Nazareth on my previous trip, so that was a new experience for me.
Nazareth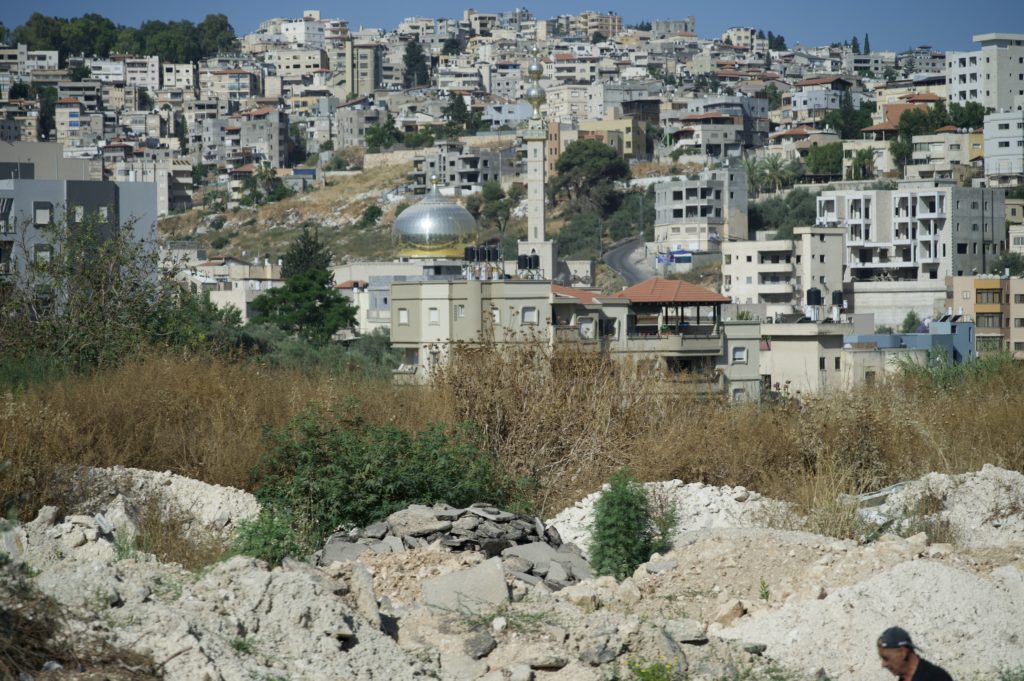 Today Nazareth is an Arab city and is the largest in lower Galilee with a population of approximately 100,000 people. Of this population about 70% identify as Muslim and 30% as Christian. There is not a ton to see archaeologically in modern Nazareth, but the modern city is built on the same location as ancient Nazareth, though it is much, much larger.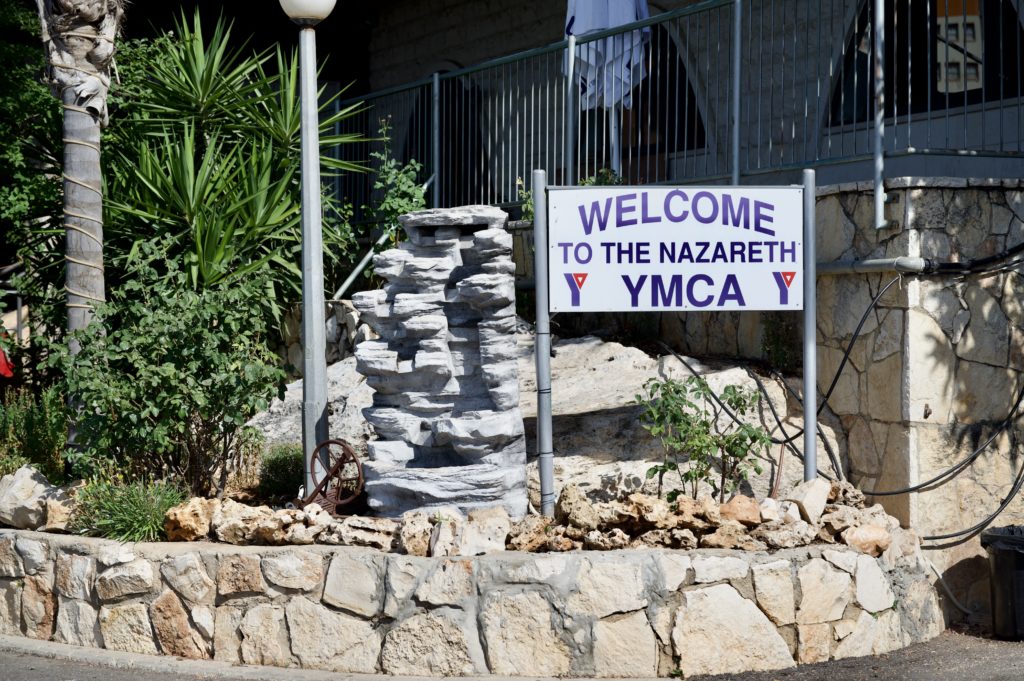 From a Biblical perspective, Nazareth is known because it was the hometown of Jesus. He is frequently identified as a Nazarene in passages such as Matt 2:23; 26:71; Mark 1:24; 10:47; 14:67; 16:6; Luke 4:34; 18:37; 24:19; John 18:7; 19:19; Acts 2:22; 3:6; 4:10; 6:14; 22:8; 26:9.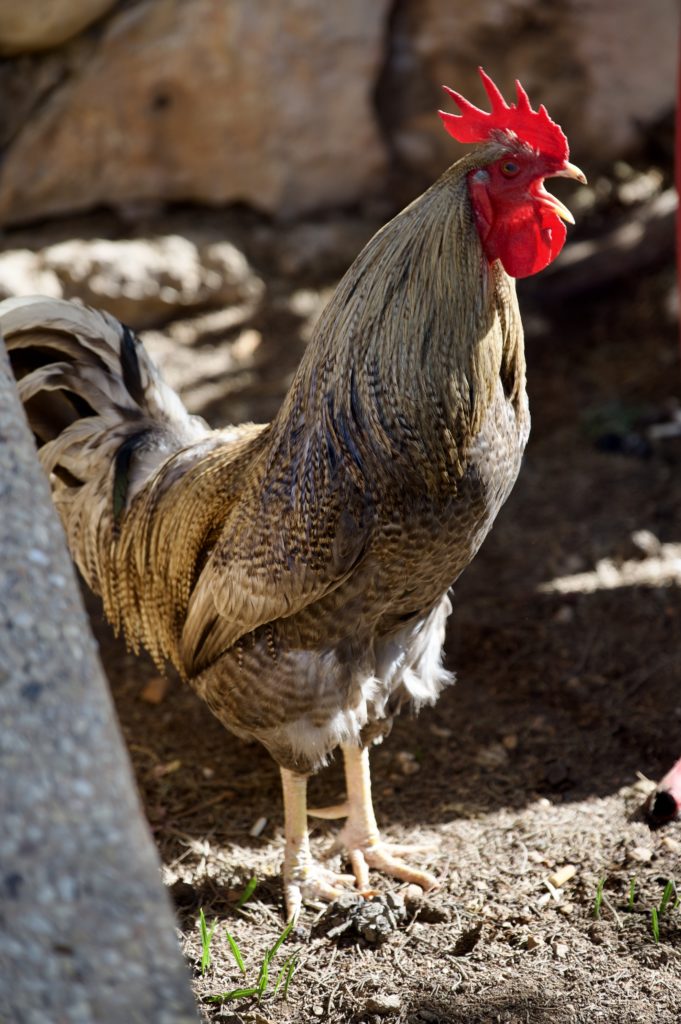 Our destination within the city today was "Nazareth Village," which is operated by the YMCA. This is in part an archaeological site and in part a recreated village and farm to show what life would have been like in Nazareth during the time of Jesus. When we arrived, there was a beautiful rooster standing on the entrance steps. Within minutes he had crowed three times and I joked that this must be the traditional Peter rooster and that they will be building a cathedral soon in his honor.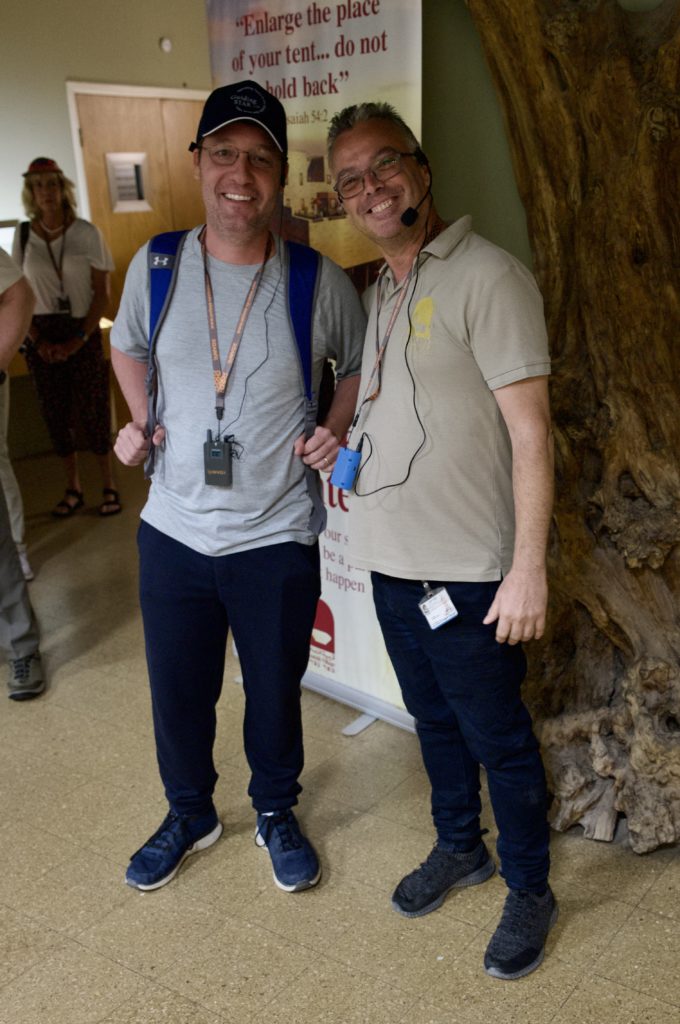 Inside we met our guide Daniel who is a Christian Jew, originally from Romania, who now lives in Nazareth. He spent a few minutes explaining what we would be seeing, and that the site of the village was approximately a 10-minute walk from where the original ancient Nazareth would have been located.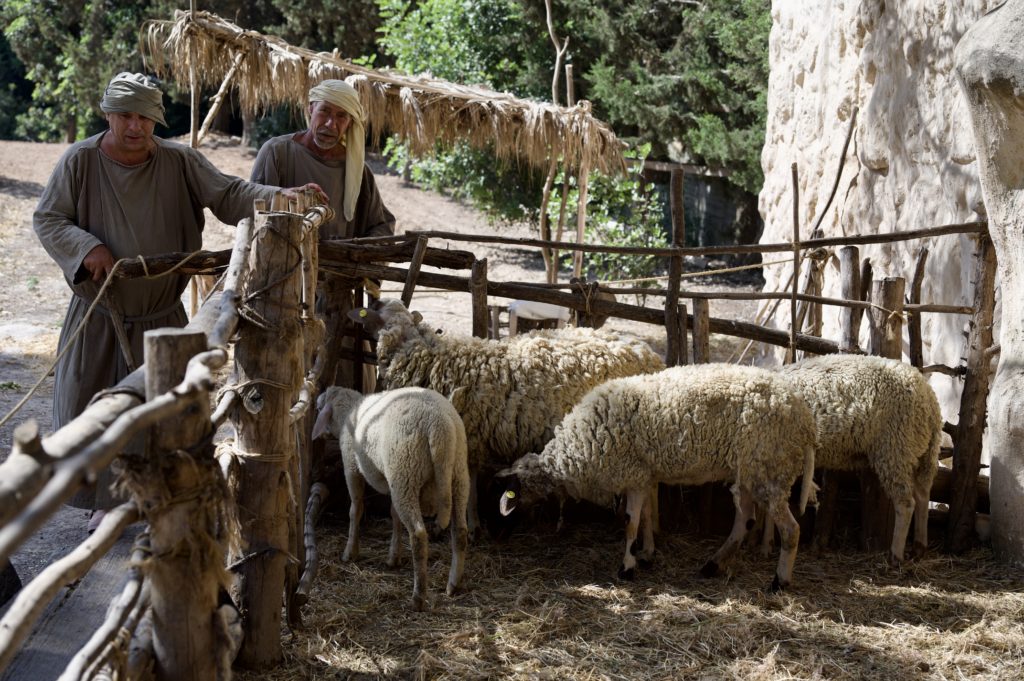 During our tour of the site, he explained to us about what farming would have been like in the first century. This included growing wheat and vegetables and raising sheep. We also got to see a very small replica of what a first-century tomb would have looked like, though we will get to see actual first-century tombs in Jerusalem.
The village is located on the side of a hill, and as we moved up the site Daniel showed us some of the archeological discoveries that have been excavated. We saw a wine press from the first century that had been carved into the rock. It consists of a flat basin where the grapes would have been pressed by walking on them with bare feet. Shoes were not used because they might crush the seed which could give the wine a bitter taste. Below the basin was a vat that had been hollowed out to collect the juice from the grape as it came down the hill. In the picture above, we are standing in the press, and you can see the vat just below our feet.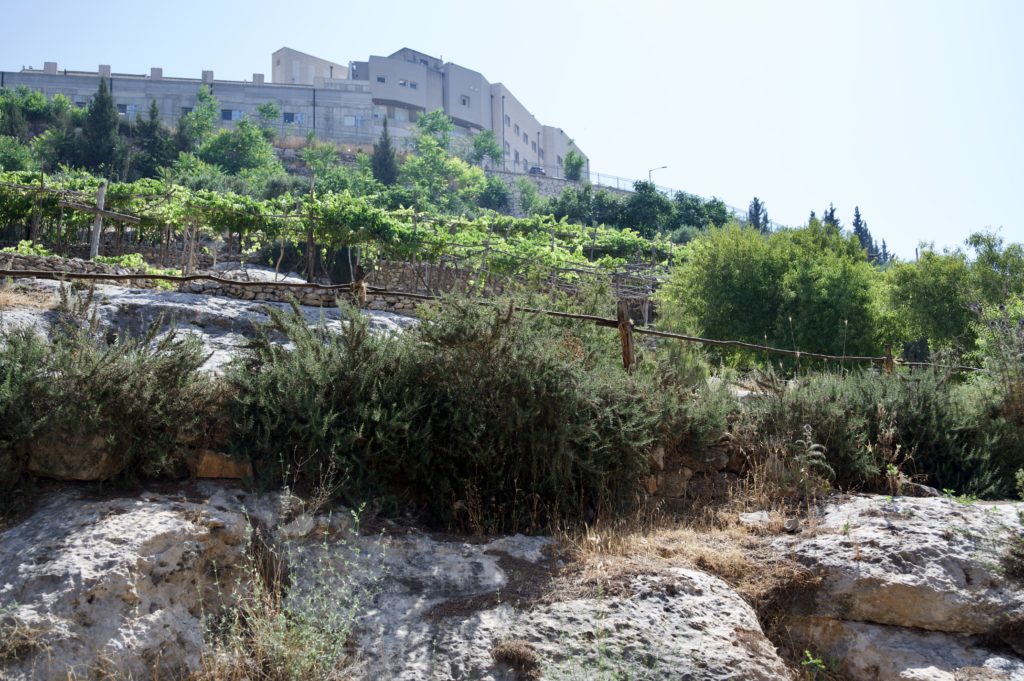 Also along the hill were rock terraces that create flat shelves to allow for farming on a slope. The is also the remains of a rock tower at the top of the hill. Daniel explained that the footings of the terraces and tower were original and that ancient rocks from the site have been stacked on top of them to show their location.
Daniel suggested that maybe this spot was the inspiration for the parable of the tenants that Jesus told in Matthew 21:33-46. That parable is about a farmer who planted a vineyard and mentions a wine press and a tower, and all three were found at this site. A very interesting theory, but obviously we have no way to know.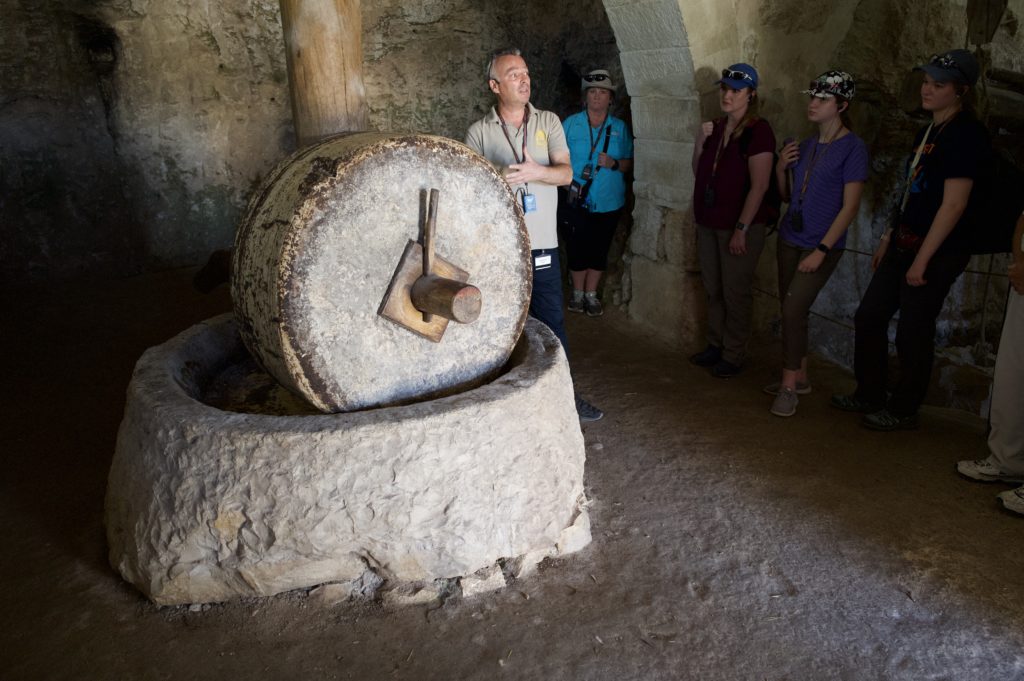 Next, we saw a recreated olive press where Daniel explained how olive oil was made. First it is crushed with a millstone into a mash. Next it is pressed three times. The first oil is given to God and the last is used for things like lamps.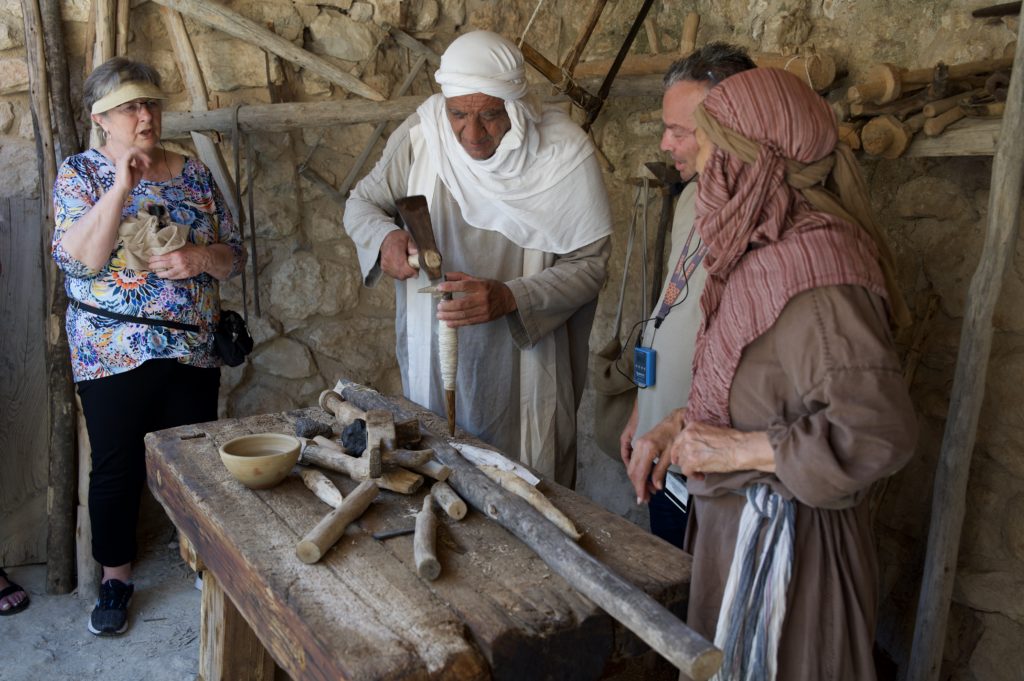 We then had a presentation about carpentry and making fabrics. During this presentation, he mentioned that the Greek word for carpentry would have included working with stone and that this means Joseph would also been a stone worker. Will have to do some more research on this because I've never heard this before.
Our final stop was a replica Synagogue modeled after originals found in Nazareth. Daniel talked about the story in Luke 4:16-30 where Jesus was in the synagogue in Nazareth and read the prophecy from Isaiah 61 and said that it had been fulfilled by Him. Jesus later said that "no prophet is acceptable in his hometown."
At the conclusion of the tour, Daniel told us that before the pandemic started, they were averaging over 120,000 visitors per year.
Jordan River
After Nazareth Village, we reunited with Ami and began the long drive back to eastern side of the Sea of Galilee and then began traveling north through the Golan Heights. Along the way saw the Jordan river, which is the first time I've seen it north of Galilee.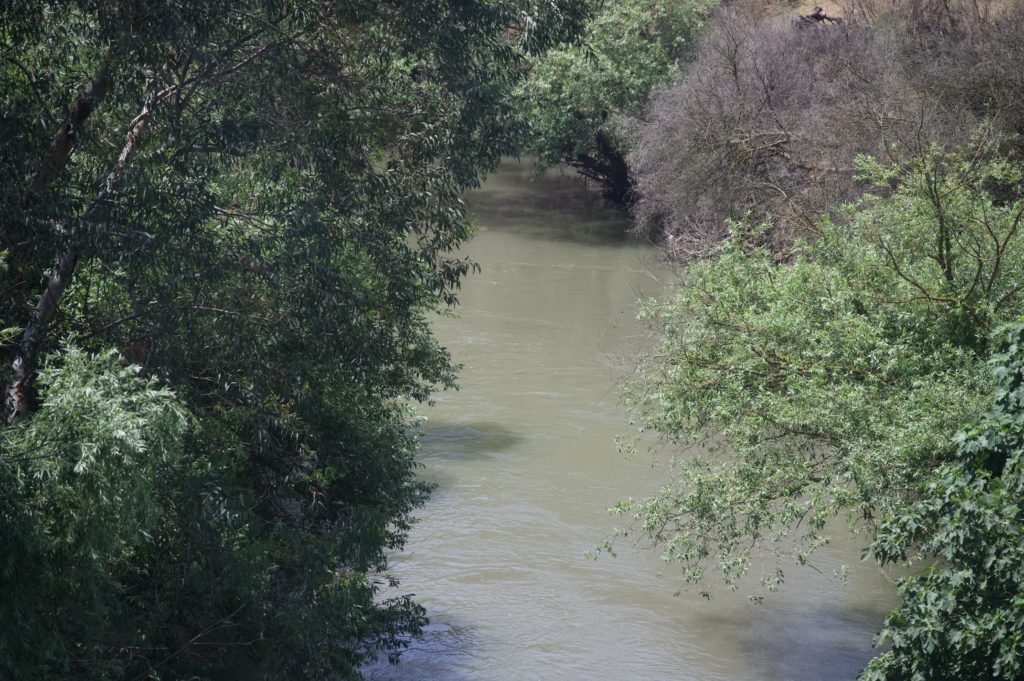 The Jordan River is fed by four tributaries (1) Hasbani River, (2) Banias River, (3) Dan River, and the (4) Lyyon Stream. ™The river rises on the slopes of Mount Hermon and flows southward through northern Israel to the Sea of Galilee. Exiting the sea, it continues south before emptying into the Dead Sea.
The Jordan River is more than 223 miles in length, but, because its course is meandering, the actual distance between its source and the Dead Sea is less than 124 miles.
The diversion of river water by both Israel and Jordan has significantly diminished the Jordan's flow into the Dead Sea and has been a major factor in the considerable drop in the Dead Sea's water level since the 1960s.
From a Biblical perspective, the Jordan is mentioned over 180 times in the Old Testament and 15 times in the New Testament. Here are some notable highlights:
*First mentioned in Gen 13:10: Lot admires the land "like the garden of Yahweh."
*Joshua leads the children of Israel across the Jordan into the Promised Land and sets up the memorial stones from the Jordan (Josh 3–4).
*Elijah crosses the Jordan prior to his ascension (2 Kgs 2:6-8) 
*The river is prominent in Elisha's miracles—the parting of the Jordan (2 Kgs 2:14), the healing of Naaman (2 Kgs 5:9–14), and the floating ax head (2 Kgs 6:4–7). 
*John baptized Jesus in the Jordan River (Matt 3:13-17; Mark 1:9-11; Luke 3:21-22).
Golan Heights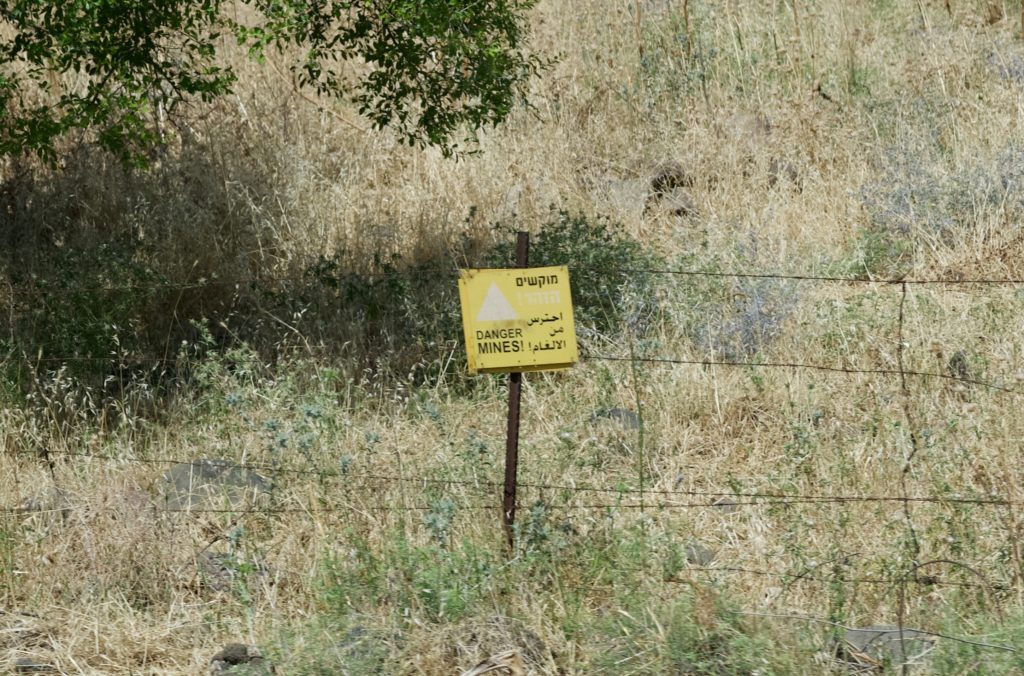 As we continued traveling north through the Golan Heights, Ami talked to us a lot about the history of Israel and Syria and their dispute over this territory. We saw the Israel / Syria border as it was before 1967 and the 6-day war. We saw lots of fields with warning signs about mines.
Ami explained that today the Golan Heights is filled with nature reserves, new development, and numerous military positions. We saw several orchards that Ami said contained pomegranate, peach, and cherry trees. There are also lots of olive trees, and the landscape is covered in basalt rock. We also saw several vineyards as we drove along.
Our next stop of the day was at a lookout near Syria within the Golan Heights that is approximately 3,000 ft above sea level. Because of the elevation it was very cool and pleasant to stand outside.
At the lookout, Ami told us about Israel occupying the Golan Heights in 1967 and taking it from Syria and reclaiming all the territory lost in 1948. This was the 6-Day War and is considered a great victory for Israel. He then explained how Syria and Egypt attacked Israel in 1973 on Yom Kippur in an attempt to take it back. Ami was a reserve soldier in the Israeli Army that was called into service as fighting began. He was a tank driver and commander. He explained how the war was not going well for Israel until America began providing ammunition and equipment.
He talked to us about the terrible experiences from that war and about losing one of his men, which occurred 2 hours before the cease fire. He tried to save him but was unsuccessful. He talked about going to the funerals of fallen soldiers and how hard it was to be with their families.
While telling this story, he told us a little more about his personal life. Right after the war was over, he was 24 years old and got married. He is still married to her today, and they have two children and three grandchildren.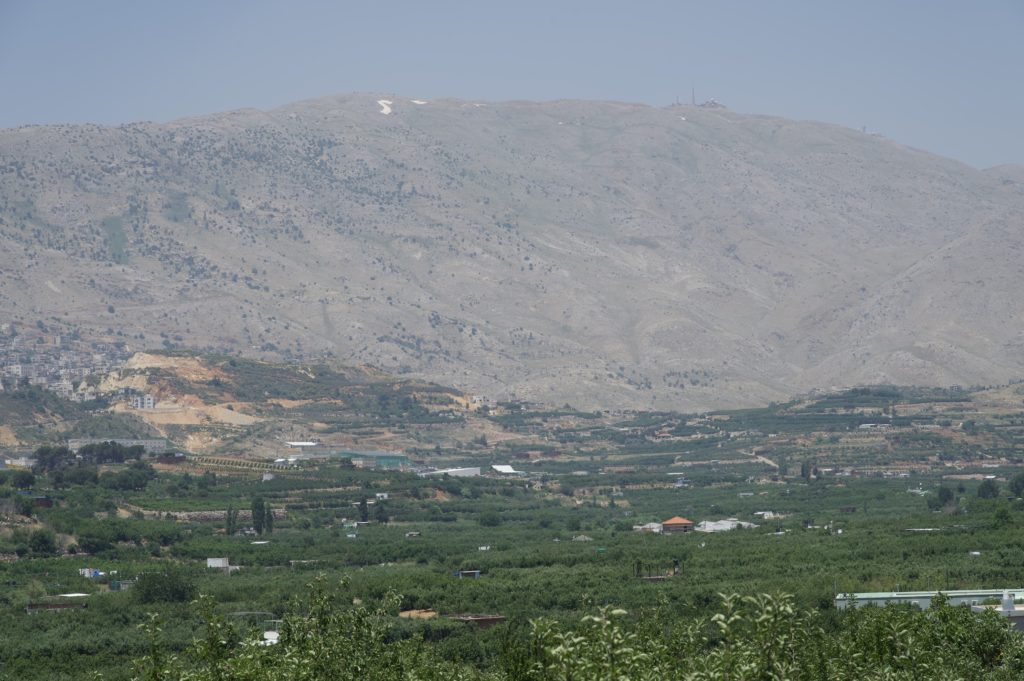 After leaving the lookout, we continued driving north and soon was able to see Mt. Hermon in the distance with a little snow still on top. Mt. Hermon is the tallest point in Israel at 9,232 above sea level. As we continued driving, we got closer and closer to the mountain, and I was able to see it better than I ever did on my last trip.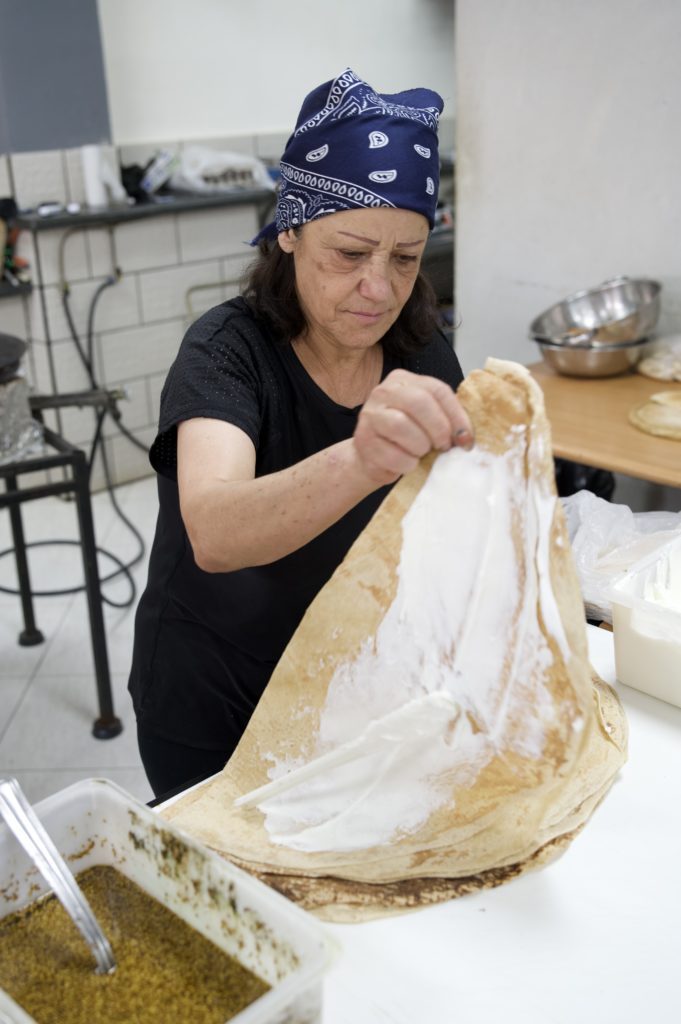 We stopped as Mas'Ada for lunch, with a great view of Mt. Hermon from the parking lot. Ami told us that this village has a large Druze population. This is a mysterious religion that incorporates elements from many different faiths.
Lunch was at the Birkat Ram Restaurant, and Olivia, Kate and I all had Labne which is a type of cheese made from strained yogurt. It was placed on a pastry sheet with olive oil and toasted. This was one of the best lunches I've had in Israel. So good. Sara decided to get a schnitzel, which is fried chicken in a pita.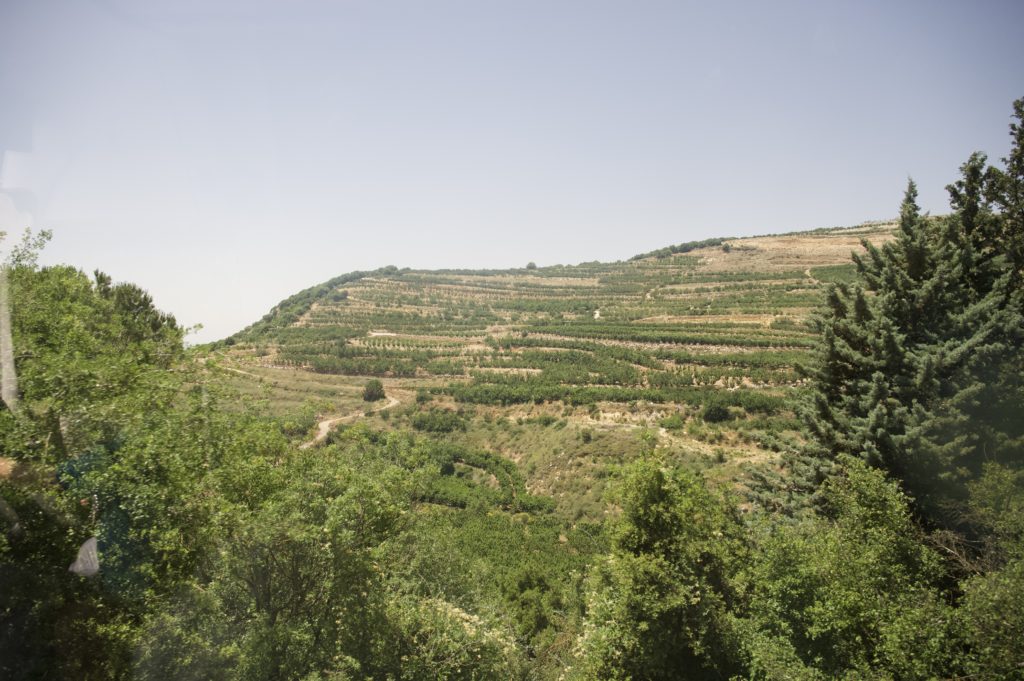 As we left Mas'Ada, we drove along the Hermon Mountain range. We saw lots of terrace farming on the hills surrounding Hermon and also saw a fortress from the time of the crusades. This entire route was new to me, and it was awesome to see so much of Mt. Hermon.
Caesarea Philippi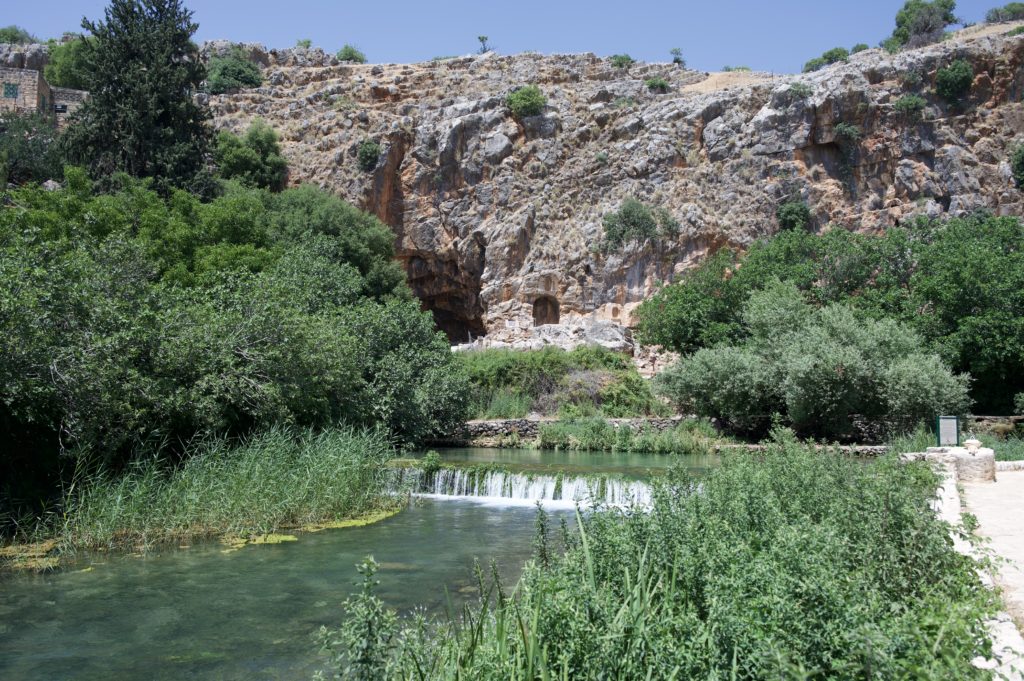 As we reached the foothills of Mt. Hermon, we came to Caesarea Philippi. This city was originally built by Herod Philip, the second son of Herod the Great at the southwestern base of Mount Hermon. I loved coming into Caesarea Philippi from this direction, because it gave me a great sense of it really being at the base of Mt. Hermon.
The ancient city was adjacent to a spring, grotto, and related shrines dedicated to the Greek god Pan. Pan had the face and upper torso of a human and the horns, beard, and lower body of goat. He was the god of forests.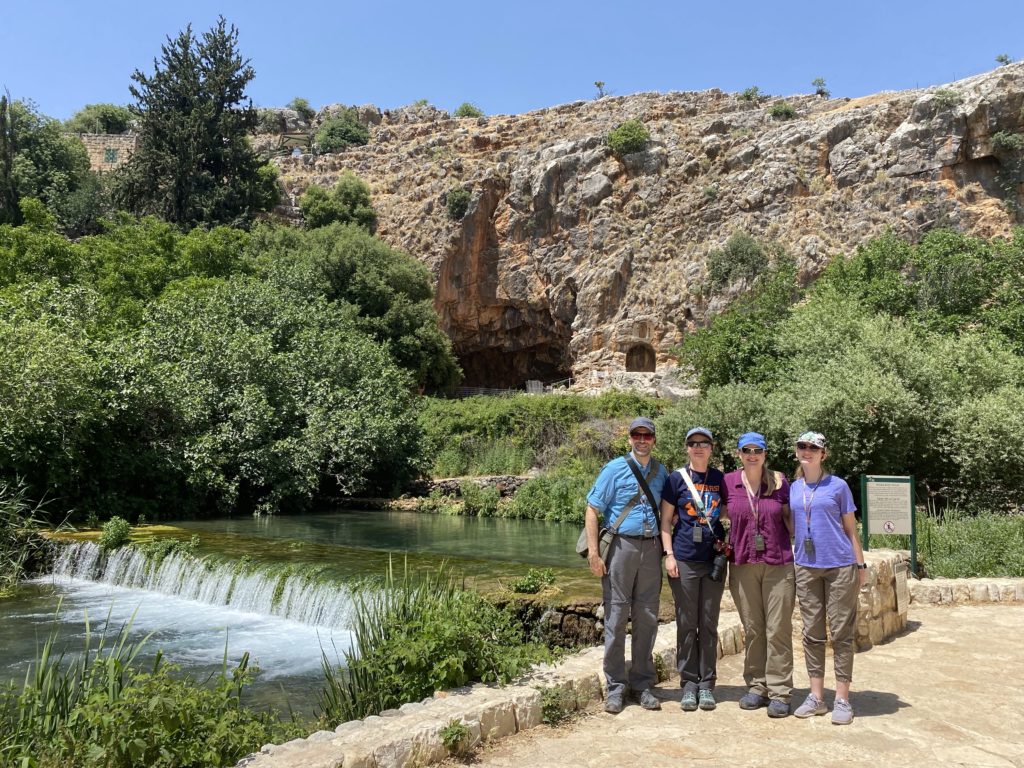 Caesarea Philippi is mentioned in both Matthew and Mark as the setting for a conversation in which Jesus asks His disciples, "Who do you say that I am?"—to which Peter replies, "You are the Christ, the Son of the living God" (Matt 16:13–20; Mark 8:27–30). Luke records a similar conversation but does not mention Caesarea Philippi (Luke 9:18–22). Jesus' comment about the "rock" could possibly have been inspired by the giant rock mountain face at the temple of Pan.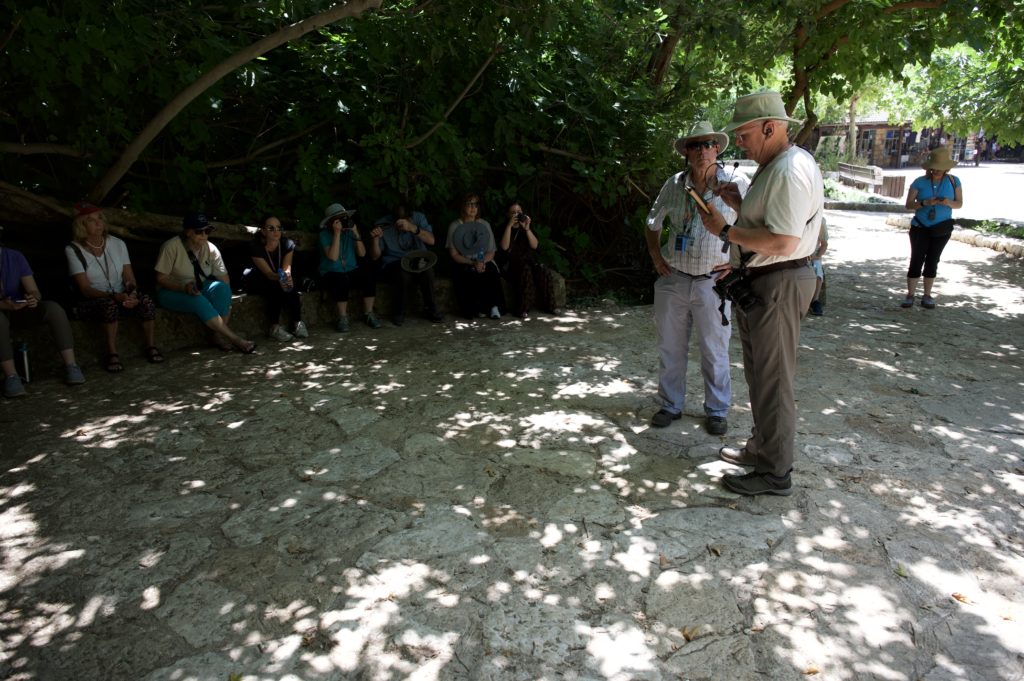 When we arrived at the site, we walked over to a shaded area near the Hermon Spring, and Bruce read to us from Matthew 16 and the account of the great confession mentioned above. Ami then began to talk to us about this confession, but also about the god Pan and other deities that were worshiped up on the rock.
The group crossed the bridge over the spring and then climbed up to the grotto and the site where the temple of Pan used to stand. It was interesting to me to see the changes, because the grotto seemed to be about three times larger than it was two years ago when I was here, and it was surrounded by a fence and some equipment. Ami said that they had been working on it for a while but didn't seem to know what they were doing.
Up near the rock, I spoke to the group about the possibility that Jesus telling Peter that "upon this rock I will build my church" might have been inspired by Jesus' view of this giant rock in the foothills of Mt. Hermon.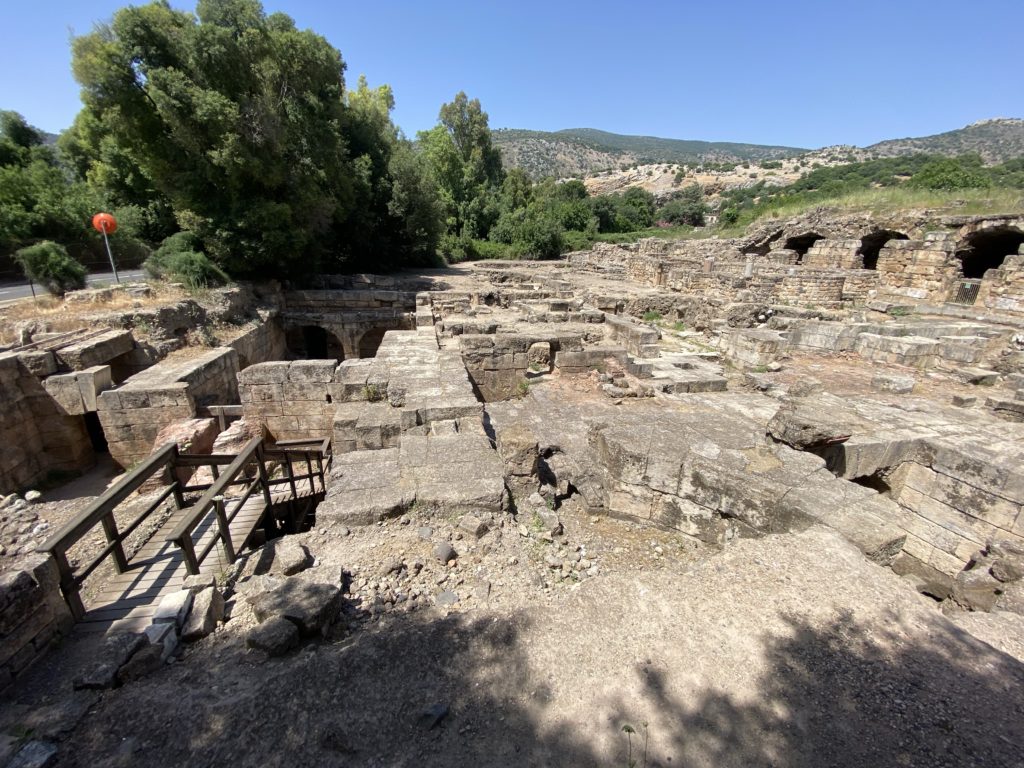 When I was in ™Caesarea Philippi two years ago, we were able to get permission to visit the recently uncovered remains of the palace of Herod Agrippa II. It is across the street from the main site, behind a locked fence, but was part of ancient Caesarea Philippi. While at the palace two years ago, I fell on some steps and smashed two fingers in my left hand. This injury required surgery and several screws and wires to repair.
I tell that backstory to explain what has been happening the last two days. Ever since we arrived, I have been begging / nagging Ami about being able to go back to the palace. This is not a normal site that is toured and is still behind a locked gate. Well, today he found someone who let us in the gate, and then I led a few members of our group to the archaeological excavation and explained to them the significance of Herod Agrippa II.
Agrippa II was the son of Agrippa I who had the apostle James killed and Peter arrested in Acts 12. He also died in that same chapter after being eaten by worms in Caesarea Philippi. When Agrippa I died, Agrippa II was only 18 years old and living in Rome. Because of his young age, he did not immediately take his father's command, but eventually was given the northern part of Palestine and his territory continued to grow.
™Agrippa II was the last Herod to also be called king and was the one who tried Paul in Caesarea Maritima in Acts 25 and 26. He had a palace in Caesarea Philippi, which was his administrative center, and this is what we were able to tour today. In 61 AD, King Agrippa II renamed Caesarea Philippi as Neronias in honor of Roman Emperor Nero.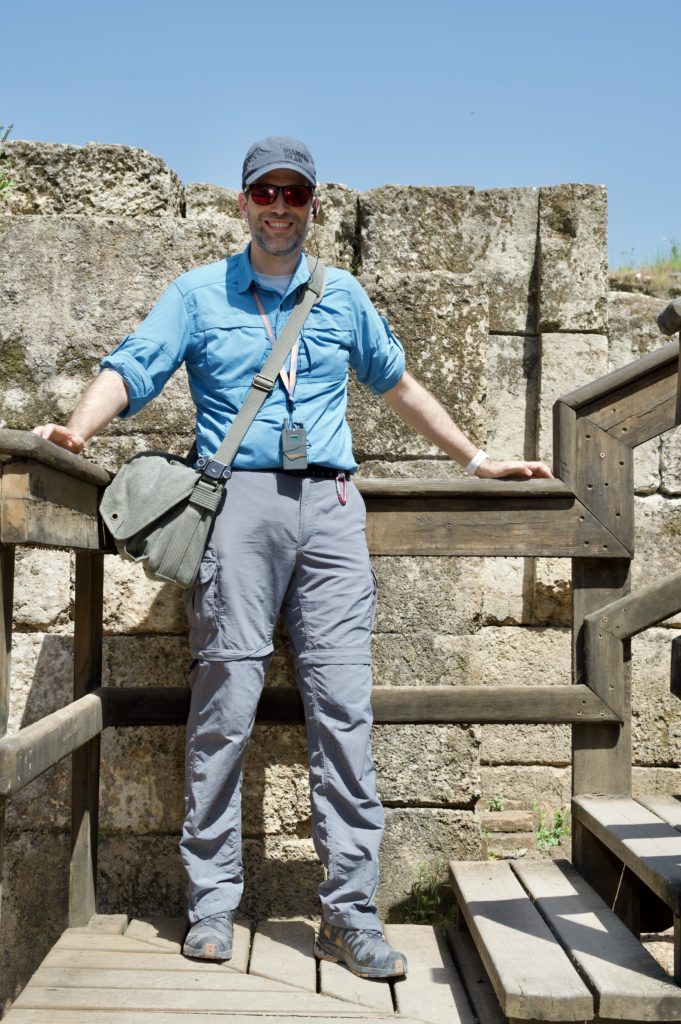 Today I was able to successfully make it down the stairs into the tunnels within the bottom level of the palace. This site is remarkable intact to be from the first century AD. Everyone who joined me seemed to be thrilled to be able to see it, and it really makes me wonder why they don't open it up to more people. Whatever the case, I'm grateful we were able to explore it today.
Tel Dan
Our final stop of the day was Tel Dan, which is a short drive from Caesarea Philippi. It is also located at the foot of Mt. Hermon. The snow on top of Mt. Hermon supplies the four tributaries to the Jordan River mentioned above, and the largest of these tributaries is Dan Springs. We saw this stream as we walked through the nature reserve toward the ancient city. The spring moves very fast and supplies 1/3 of the water to the Jordan River.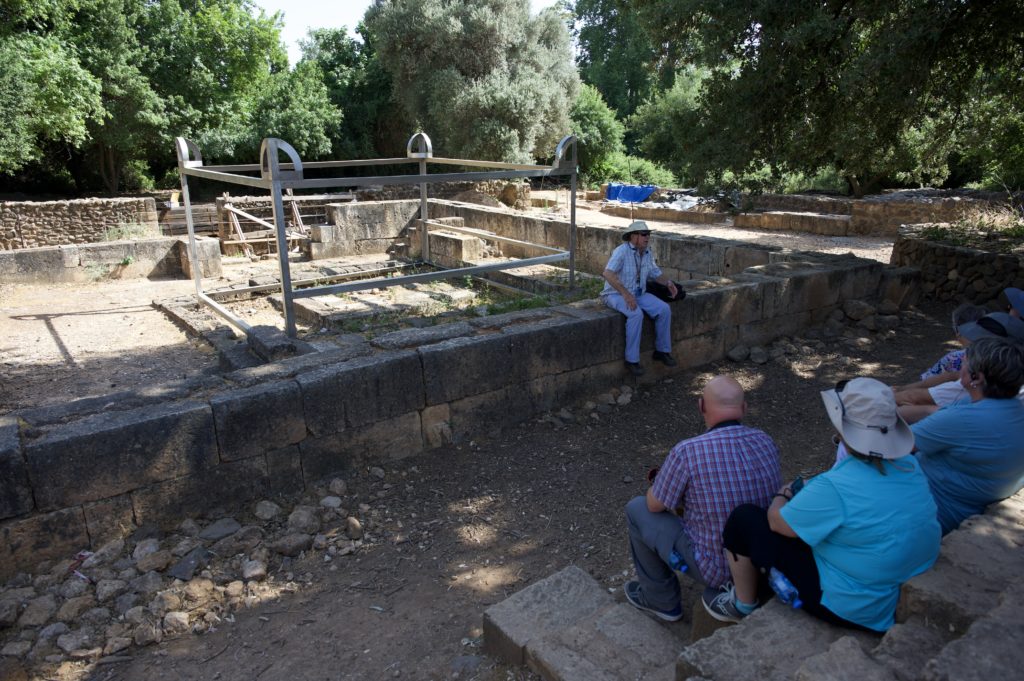 We took a slightly different route through the nature reserve this time than I did two years ago, and it was much more rocky. Our first stop once we reached the ancient city was the temple of Jeroboam. Once we got there, the group sat down on the Bema (High Place) across from the altar while Ami told us about the history of Dan.
The tribe of Dan, originally given territory on the southern coast, migrated there when they could not defeat the Philistine coastal inhabitants (Joshua 19:40– 48). A group of Danites went north to Laish and destroyed it (Judges 18:27). They renamed Laish "Dan" after their patriarch.
™
Dan was also the location of a large religious complex, built by Jeroboam during the Divided Kingdom (1 Kings 12:26–33). He built a large altar and temple complex at Dan (and at Bethel; see 1 Kings 12:29) to stop Israelites from going to Jerusalem to worship. He set up a golden calf in the shrine and proclaimed, "Here are your gods, O Israel, which brought you up from the land of Egypt" (1 Kings 12:28).
Once Ami finished speaking, I read to the group from 1 Kings 12, and explained how seeing things like this altar helps to show us that these accounts in scripture are true. There really was a temple in Dan built by Jeroboam. This is one of my favorite sites in all of Israel.
Next, we walked to a lookout near the border with Lebanon, and Ami told us a little about the history of Lebanon and Israel. As we were walking to the next site, I told him that I was from Lebanon….Lebanon, Tennessee. This started a conversation about Tennessee from and earlier trip he had made there.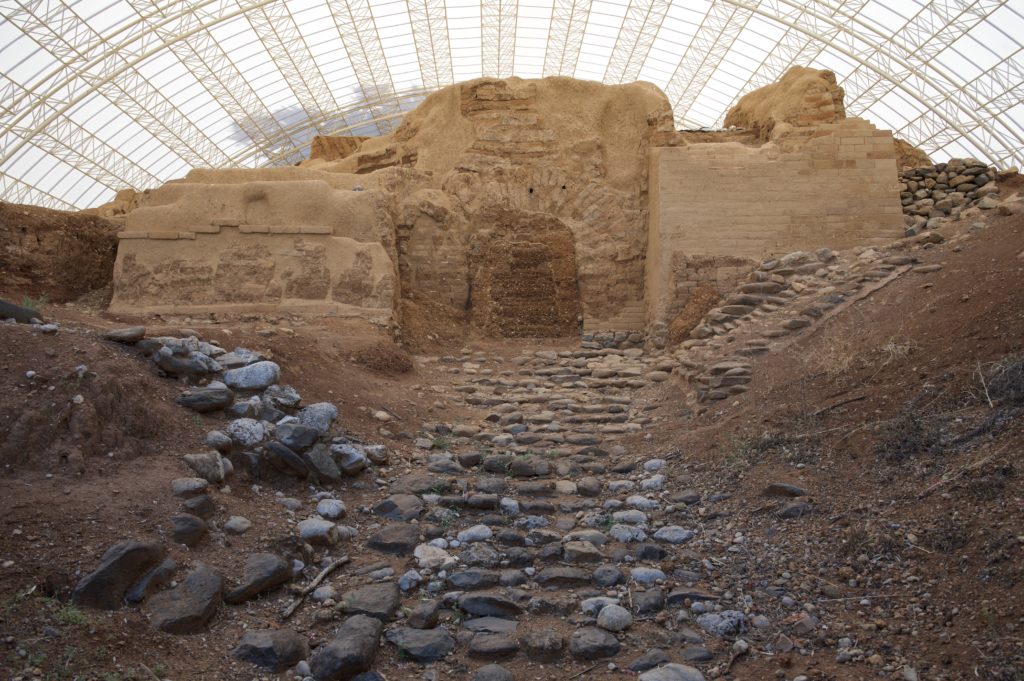 The next stop was Abraham's Gate, which is an 18th century BC Canaanite gate (almost 4,000 years old) made out of mud bricks that is remarkably intact and has not been restored in any way. This is likely the oldest gate ever discovered in the world. It is called Abraham's gate because of the account of Abraham visiting Dan (Laish) in Genesis 14, which is the first mention of this city in the Bible.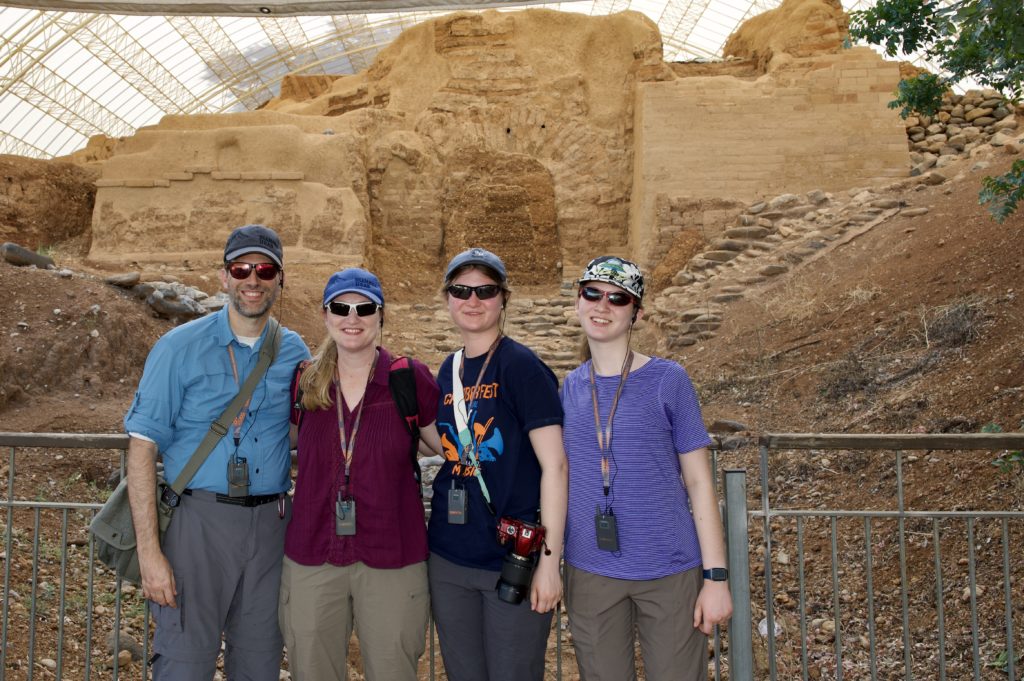 Abraham is pursuing Chedorlaomer king of Elam, who had abducted his nephew Lot, when they looted Sodom and Gomorrah. Abraham caught up with Chedorlaomer at Dan (Genesis 14:14). The thinking is that perhaps Abraham went through this gate when he came to Dan. According to Judges 18:29, Dan was called Laish (or Leshem) prior to Israel's conquest of Canaan, so the use of the place-name "Dan" in Genesis 14 likely reflects a later updating of the text to use the Israelite name instead of the Canaanite name for the site.
Our final stop was to the reconstructed walls and gate of Ancient Dan. This area has been extensively reconstructed from stones found on site by the University of Chicago. While it looks really neat, it is definitely not as impressive or memorable as original sites like Jeroboam's temple and Abraham's gate.
However, within this are, Ami told us about a very important archaeological discovery that was made at Dan. It was the first place where the name of David was found in 1993 in an inscription that reads "King of Israel, King of the House of David." I spoke to the group about the importance of this find. Prior to 1993, opponents of the Bible would ask how there could possibly be a king with the power and influence of David with no archaeological evidence of his existence. Well, that evidence was found in 1993.
One final note about Dan in scripture. The phrase ™"From Dan to Beersheba" is used nine times to refer to the settled areas of the Tribes of Israel between Dan in the North and Beersheba in the South (Judges 20:1; 1 Samuel 3:20; 2 Samuel 3:10, 17:11, 24:2, 15; 1 Kings 4:25; 1 Chronicles 21:2; 2 Chronicles 30:5).
Upon leaving Dan, we began the long drive back to the hotel. I actually took a little nap on the bus, which was really nice. I was nowhere near as tired as I was on Monday evening but was still pretty gassed from another eventful day.
After cleaning up, we had another delicious dinner in the main dining room and then walked out on the promenade by the Sea of Galilee. There is a public piano on the promenade, and Sara played "Fairy Tale" for us, which was really nice. I uploaded a video of her playing that can be accessed below for anyone who is interested.