January 8, 2020
Our final, chilly morning in Israel started early with clouds and a little rain. My alarm went off at 5:30 so that we could board the bus and leave the hotel by 7am. I was able to get my final items packed up and grab some scrambled eggs and coffee in the restaurant before loading onto the bus. Jerry Sells offered a prayer as we were leaving. 
There were 22 of us that were flying back early through Newark and it took us about an hour to get to the Ben Gurion airport in Tel Aviv. Our bus had to pass through a security screen before we were dropped off. They pulled us off to the side of the road but did not come on board the bus.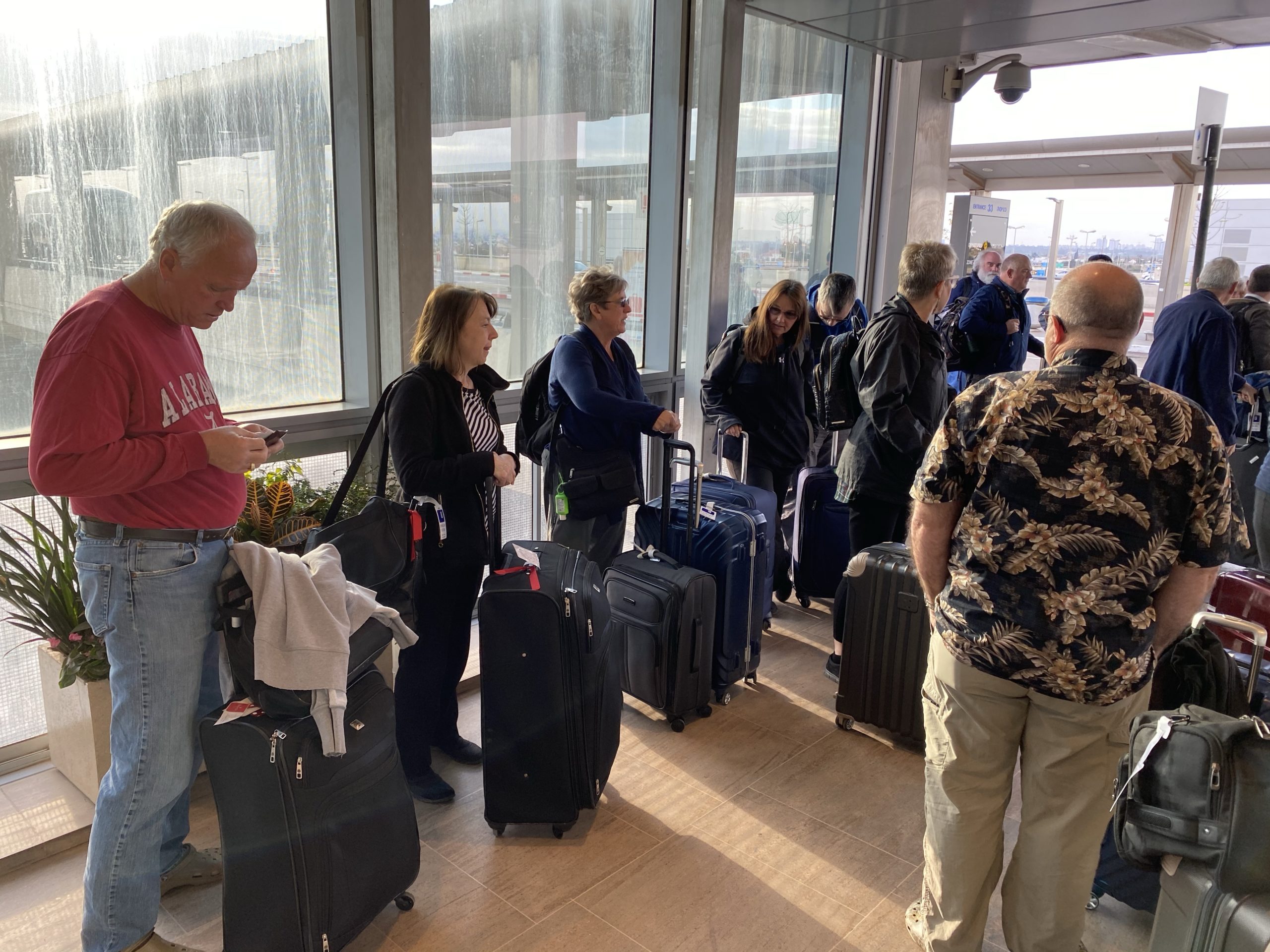 Upon arrival we each had to go through a security screening before checking our bags. This ended up not being as big of a deal as I feared but did take a while. 
After checking our bags, we then had to go through security again, but this was also not a big deal for most of us. I say "most of us" because my dad did have to endure some extra interrogation due to his pacemaker. From there we had passport control and then finally had access to our departing gate. 
Before leaving, I went to the currency exchange place to try and get some half shekel coins to bring home. These coins are worth very little but are gold with the harp of David on the back. The lady at the bank made a big deal about me wanting to get $5 worth of these coins, but eventually made the exchange. 
Our 11:30am flight was ultimately delayed by an hour, and after we got on the plane it seemed like it was taking a long time for everyone to be seated. The captain actually came on the speaker and began calling out individual passengers and telling them to be seated or we would lose our takeoff slot. I've never seen that before.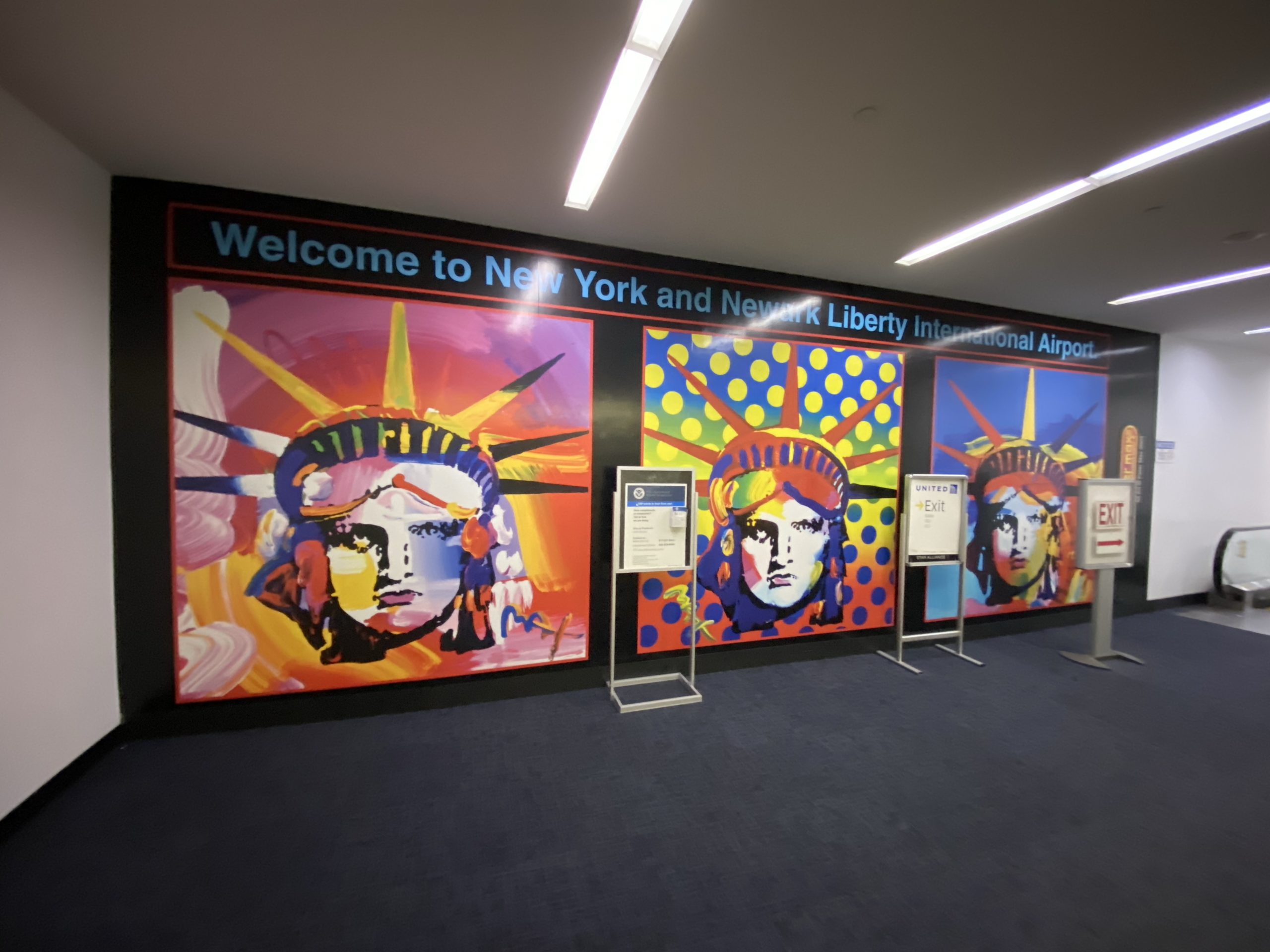 The flight was really long (12 hours) but relatively uneventful. I was able to sleep more than anticipated. We landed in Newark around 5:30pm and it took at least an hour and a half to get through customs and immigration, re-check our bags, and then make it through security. I had to board a shuttle after security to get from Terminal C to A where our next flight would leave from.
At terminal A I worked on my journal for a bit and the group was serenaded by Jeff Hallums and Butch Reed with everything from Merl Haggard to the Beatles.
Our final flight home was also delayed by an hour which meant that all 4 of my first ever flights on United were delayed. This was a regional jet, which felt especially tiny after flying back from Israel on a 777. Otherwise, this was again an uneventful flight, and we touched down at good old BNA just after midnight.
January 9, 2020
After getting home around 1am, I finally got to bed by 2am and slept until 5pm!! I didn't bother setting an alarm, and never dreamed I would sleep that long. This was probably a bad idea as I felt very weak and dizzy when I got up from lack of food. It was nice to eat dinner with my girls and to be able to give them the things that I brought back from Israel.
I then sat down in the living room and promptly fell asleep again. At 11pm, Olivia woke me up to go to bed and I slept until the next morning at 6am. It's interesting to me that when traveling over the Atlantic, it doesn't bother me too bad on the way out but throws me for a loop on the way back.
January 10, 2020
My last update related to Israel is related to my hand. I had previously posted about falling within the archaeological remains of the palace of Herod Agrippa II while in Caesarea Philippi and dislocating my finger. Well, the last afternoon of my trip through the journey home, the back of that hand started aching pretty badly. I decided to go see a hand specialist on Friday and was diagnosed with two fractures and a torn ligament in that hand. They are going to perform surgery on Wednesday, January 15 to hopefully put everything back together.
A number of people have expressed sentiments that they are sorry that this "ruined" my trip, and nothing could be further from the truth. Other than that final afternoon, I felt very little pain, and it really didn't impact the trip in any significant way. It could have honestly been a whole lot worse, and I'm thankful that my prognosis is for a full recovery. 
This was the trip of a lifetime, and I learned so much that will benefit my personal faith as well as my teaching and preaching.