Day 2 started with breakfast at Tropics Bar and Grill right on Waikiki beach. Kate, Olivia and I all had yummy omelets, but Sara had a big stack of chocolate chip pancakes. It came a nice little downpour but luckily we were under an umbrella big enough to keep us from getting wet.
After breakfast we boarded a bus with our driver and guide Kimoke'o. He will be our guide for our time on Oahu through Saturday. He was born and raised in Hawaii and taught us a lot of history about the islands. He's been a tour guide for 19 years. Throughout our time with Kimoke'o, he kept calling the 38 of us on the group 'ohana, which is the Hawaiian word for family.
As we left Waikiki headed north, he explained to us that the word "wai" means "fresh water" in Hawaiian. So "Waikiki" means "bubbling fresh water," and Waikiki was originally a fresh water swamp. Today, Waikiki is mostly reclaimed land that borders the Pacific Ocean because the fresh water was drained.
The Pacific Ocean takes up approximately half our world and Hawaii is part of a group of 132 islands that is 1,000 miles long. Eight of those islands make up the state of Hawaii. The island of Oahu is 607 square miles in size and has over one million residents. Oahu is 2,300 miles from California and 3,800 miles from Japan. This makes Hawaii the most isolated group of islands in the world, even more isolated than the Galapagos.
On the way north, we passed a very large pink building up on a hill, which is the largest military hospital on the islands. Military is the 2nd biggest industry behind tourism. He used this as an opportunity to explain the original intent behind the "interstate" system and why Hawaii has three interstate highways (H1, H2, and H3). even though it does not touch another state. The interstate system was started by Eisenhower and was known as the "Highway Defense System." The original intent was to connect military bases and was based on the system that Eisenhower observed in Germany.
Kimoke'o told us how in 1993 President Bill Clinton gave the first official acknowledgement of illegal overthrow of the Hawaii in 1893. He also explained that the green plant which covers Oahu is called Kua. It thrives in dry climates. Originally the island was covered in sugar cane but Kua eventually took over. The last sugar crop from Oahu was in the 1990's. The dirt in Hawaii is reddish in color because of the iron present in the volcanic rock
Oahu is made up of two volcanoes, the Wai'Anae Mountains and the Ko'olau Mountains. The peak of Wai'Anae is called Mt. Ka'ala, which is the tallest mountain on Oahu at 4020 ft.
We passed a couple of military bases on the drive northward and Kimoke'o explained that there were actually six bases attacked by Japan when Pearl Harbor was hit. This was something I had never heard before.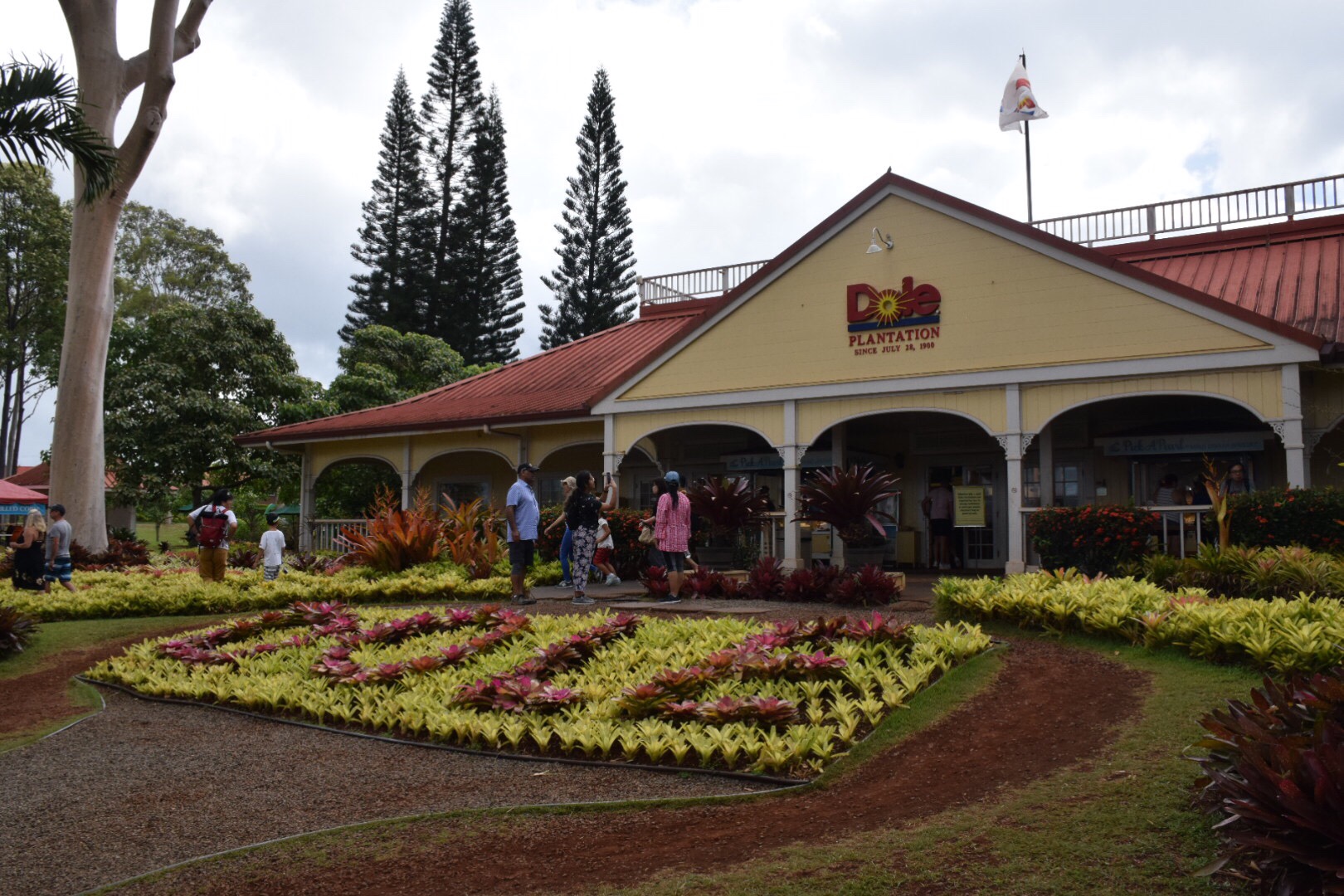 Our first stop was the Dole Pineapple Plantation. It started off as a little kiosk in the 1960s and now it is a giant store.
Even though this was really a big tourist trap, it was pretty cool to see the pineapple garden, which had over 100 varieties of pineapple plant. Everything at this center was pineapple themed, and it was kind of ironic for Olivia to be there since she is allergic to pineapple.
On the way out of the center we saw miles of pineapple fields. The pineapple plant is a shrub from the cactus family that is planted by hand. It takes a long time for it to bear its first fruit, but then it will fruit annually. With every successive year the fruit gets smaller, so Dole will replace plants after three or four years. The workers wear two pair of jeans to pick the fruit because of prickly plants. Hawaii does not export pineapple any more. Most pineapples we find in a store are from South America. Agriculture is 3rd biggest industry in Hawaii.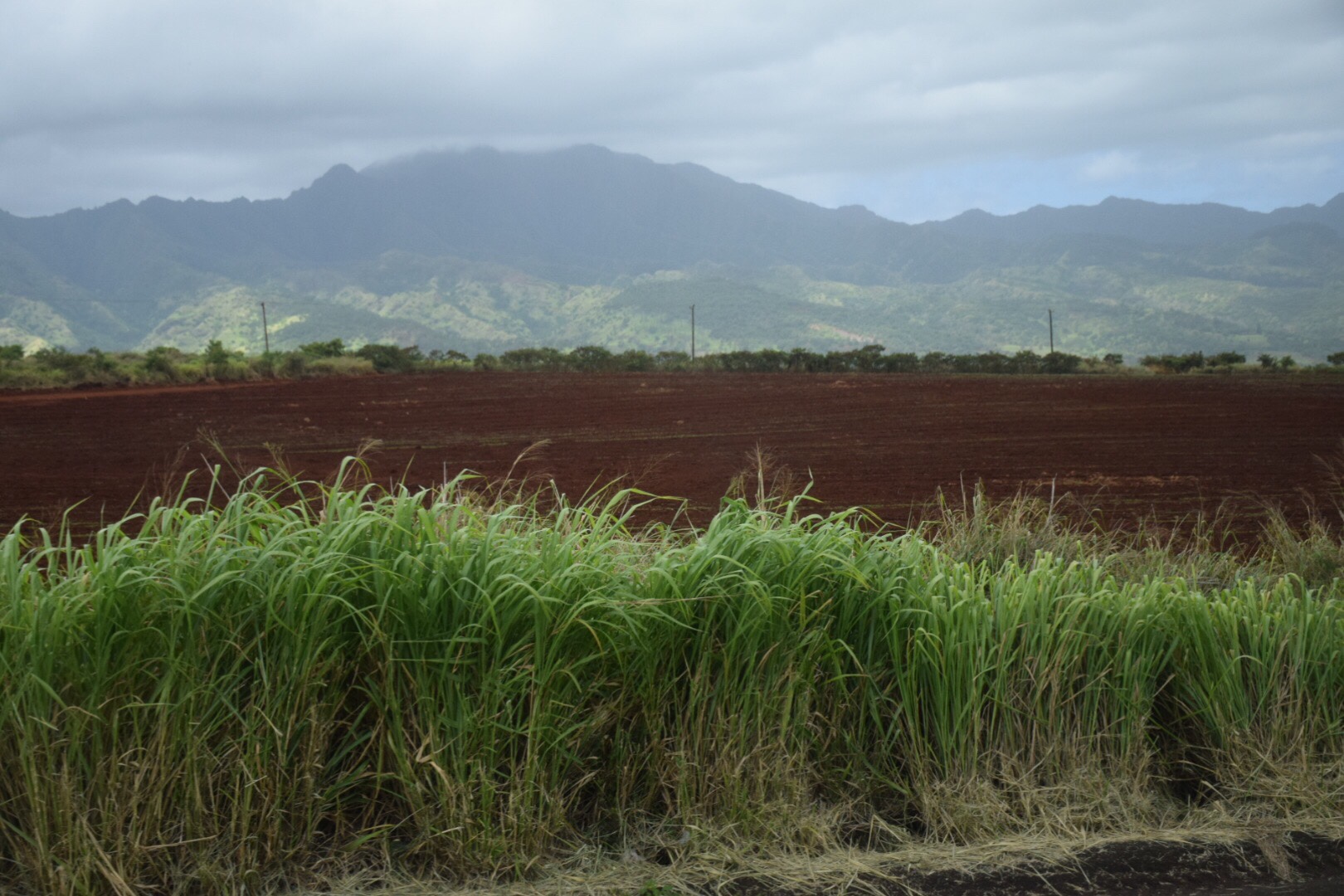 We eventually came to the North Shore of Oahu, which is the surfing center of the world. Surfing season is from November to February, but the waves are pretty flat in the summer. The sport of surfing originated in Hawaii. Most Hawaiians learn to swim when they learn to walk and after mastering swimming they begin learning to surf.
Along the North Shore we saw Turtle Beach that is the home of the green sea turtle. We saw signs that there had been recent shark sightings, but Kimoke'o reminded us that worldwide more people die from falling coconuts than shark attacks.
We also saw Waimea Bay where waves have been measured up to 50 feet high. All beaches in Hawaii are public, even at military bases. Only fire and police can force you off a beach. We passed Sunset Beach, which is the best place to see a sunset on Oahu.
We passed a school and Kimoke'o told us that all schools have annual tsunami drills. He said that in Waikiki, residents are "evacuated" to the higher floors of tall buildings since most are designed to survive a tsunami.
We saw lots of windmills along the way. This is part of the attempt to reduce dependence on foreign oil. Hawaii imports 5 to 7 billion dollars in oil per year.
Our main objective of the day was to visit the Polynesian Cultural Center. It is a 42 acre area setup by the Mormons to remember Polynesian culture. It is the number one paid attraction in Oahu. Proceeds from the center are used to fund and provide scholarships for BYU-Hawaii. This place was awesome and it was like trying to drink in Polynesian history and culture through a fire hose.
The first thing we did at the center was have a sit-down lunch at Pounders. Olivia and I had short ribs, Kate had macadamia encrusted Mahi Mahi, and Sara had a hamburger. Sara did try "POG" juice which is made up of passion fruit, orange, and guava. Olivia, Kate, and I tried 'ulu mash, which is 70% potato and 30% bread fruit.
Our next stop was in the area dedicated to Samoa. We saw a demonstration on starting fire and things made from coconuts and a coconut tree. They also demonstrated how to husk, crack, and milk a coconut. The show ended with a demonstration of climbing a coconut tree.
Next was Tonga. Tonga is still rules by chiefs and Kong's and has never been overtaken by a foreign power. We saw a show where they taught us some Tongan dances and demonstrated how to play drums.
We then moved to Tahiti. Tahiti is part of French Polynesia, which is comprised of 180 islands. They talked to us about the five groups of islands that make up French Polynesia:
Te Henua Enana
Tufa'a Pae
Mangareva
Te Tuamotu
Te Mau Fenau Ni'a Mata'i Raro Mata'i (Tahiti & Bora Bora)
They showed us items that are part of the culture of each group. For Tahiti, they talked about grass skirts. We learned that grass skirts are not made of grass but from trees. Finally we learned some Tahitian dances.
For Hawaii, we started by seeing a re-creation of the type of boat that would have been used by the original natives who came to island from Tahiti.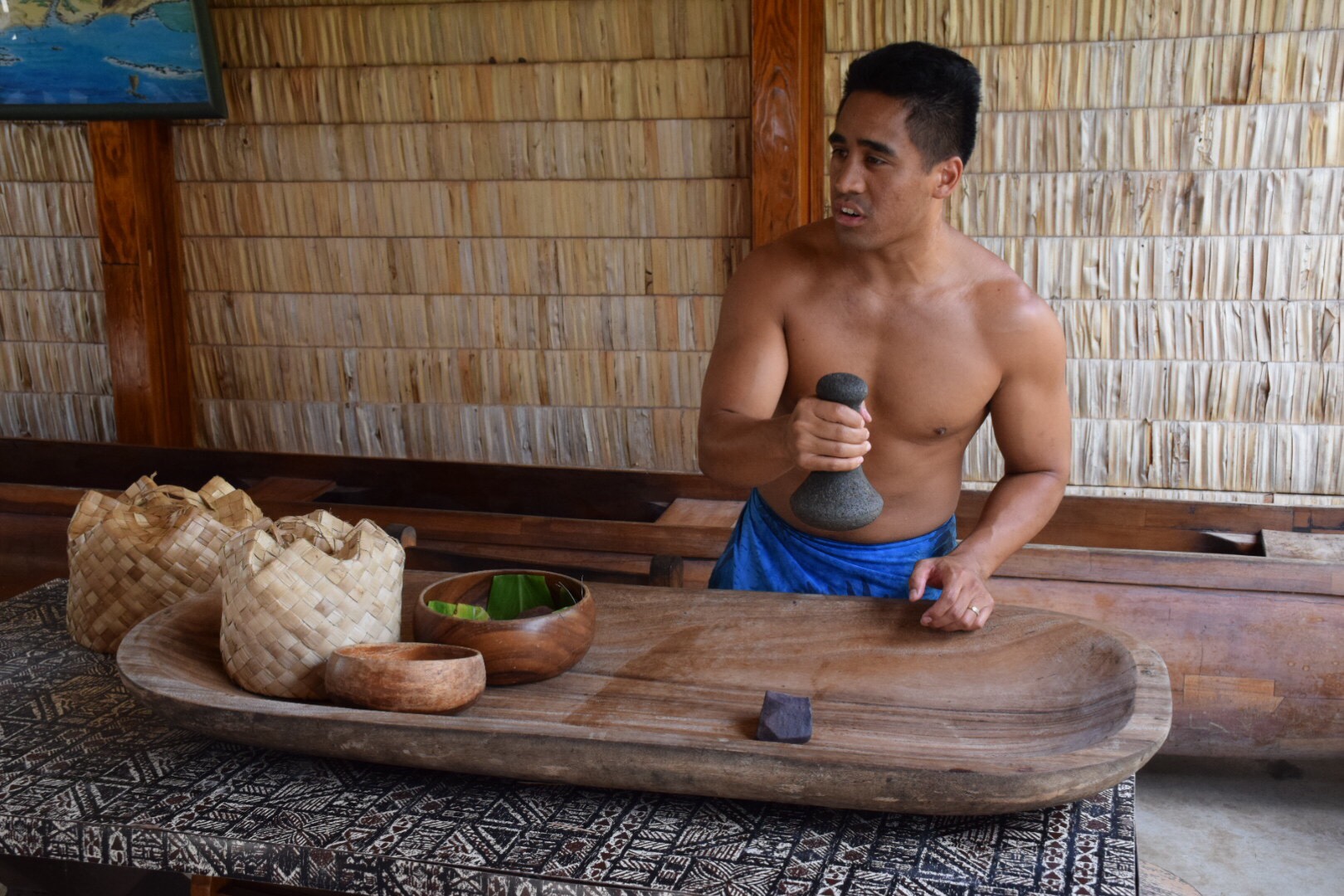 We then got an explanation of poi, which is a native starch made from the root of the taro plant. To make poi, you take the root, peel it, cook it, smash it, and add water. The water allows it to be spread out and go farther. Poi can last up to a month without refrigeration. It is purple in color but not sweet and has more vitamin C than oranges. Each of got to try some on toothpicks, even though all of us have had it before (Sara and Kate for the first time last night). Sara was less than thrilled to be trying it again so soon.
Next we saw a life sized model of a Hale Noho (family dwelling) and then we went to the Huki canoe show. In the middle of the Cultural Center was a man-made canal, and this show took place on top of canoes in the canal. At the start of the show they divided the crowd into sections for each of the major Polynesian islands. We were in Samoa and learned that their word for greeting is "talofa." The show presented a history or Hawaii, starting with legends of the earth mother and of Maui and his magic hook that was used to pull all of the Polynesian islands out of the sea.
After the show we went back to Tahiti where the girls shopped for wraps called "pareo" in the Tahitian language. Kate ended up getting a white one with aqua flowers and Sara bought a black one with purple flowers. They can be worn as either a dress or a skirt. They wore them as skirts for the rest of the day.
Our final stop was in Aotearoat (New Zealand). The girls practiced with Maori Poi (Poi Balls) before we went to their show. We were greeted in the language of the Maui people and taught the "hongi" which is a firm handshake accompanied by the brushing of noses. They also shared games, music, and dances from the Maui people and closed with a Maui proverb.
In all, we spent a little over five hours at the Polynesian Cultural Center and it was a great experience. On the way back to Honolulu, we traveled down the east side of Oahu and enjoyed the breathtaking scenery.
Back in Honolulu we drove past some historic sites such as the Capitol Building, the King's Palace, and the statue to King Kamehameha who united the Hawaii islands.
All throughout Oahu today we saw people protesting the building of a telescope on Moana Kea on the Big Island. This is a sacred site to the Hawaiian people. Many of them were carrying Hawaiian flags that were upside down.
Kimoke'o also shared with us a few other items. He said that Elvis Pressley had helped begin funding for USS Arizona memorial with a concert in Honolulu but refused to let his name be attached to the memorial. When Pearl Harbor was attacked on Dec 7, 1941, Hawaii was not a state. Hawaii eventually became our 50th state on Aug 21, 1959.
Back at the resort, we had dinner at the Tropics Bar and Grill and then enjoyed a sunset walk on Waikiki Beach. This was a great day, but I'm exhausted and ready to get some sleep. Tomorrow we go to Pearl Harbor.