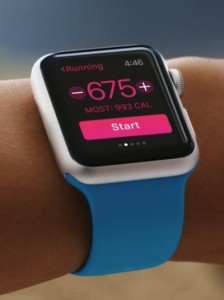 Apple Watch: A Runner's Perspective
Earlier this week the Apple Watch was formally presented to the world after being initially introduced last Fall. This has definitely generated a lot of buzz around the world, but is it warranted? I have no doubt there are millions of people who love the idea of getting email, texts, iPhone notifications, etc. on their watch, but this is something that has never interested me. However what about using the Apple Watch as a robust activity tracker?
I am an avid runner that has completed 13 marathons, 16 half-marathons, and logged almost 8,500 training miles since 2009. Most of those miles were tracked using various Garmin Forerunner GPS watches (305, 405, 220), and I would consider a good GPS watch as an essential tool for serious runners.
None of these Garmin watches have been perfect (especially the 405), but they are generally pretty accurate, easy to use, lightweight, water resistant, and work with my online running log. Apple is obviously hyping the watch as a tool for tracking activities, and the launch event even featured Christy Turlington Burns (former model and current marathoner) to extol the virtues specifically for runners.
The low-end Apple Watch is in a price range ($359) that is competitive with Garmin running watches, so could it replace my Garmin for tracking running and provide a LOT of additional features to boot? While this has never been a secret, I don't think most people immediately realize that the Apple Watch does NOT have a built-in GPS. It is totally dependent on the iPhone for GPS based activity tracking. So if a runner wants to be able to track things like pace, route, mileage, etc. they would have to wear the Apple Watch AND carry an iPhone. This was something that never came up in the discussion with Christy Turlington Burns at the launch event, and is an absolute deal breaker for me.
When paired with an iPhone, it appears as though the Apple Watch can track almost anything I would desire as a runner (and it will integrate with many online running sites). However, when I run, I want to carry as little as possible. I see lots of people running with an iPhone strapped to their arm, but I rarely see this with long distance, high mileage runners. The thought of running with an iPhone just sounds miserable to me.
Maybe in future versions the Apple Watch will be a viable tool for distance runners, but right now it is not ready for prime time.