After eating breakfast one last time at Edgewater, we boarded a coach at Fairbanks Princess Lodge and headed toward Denali Princess Wilderness Lodge just outside of Denali National Park.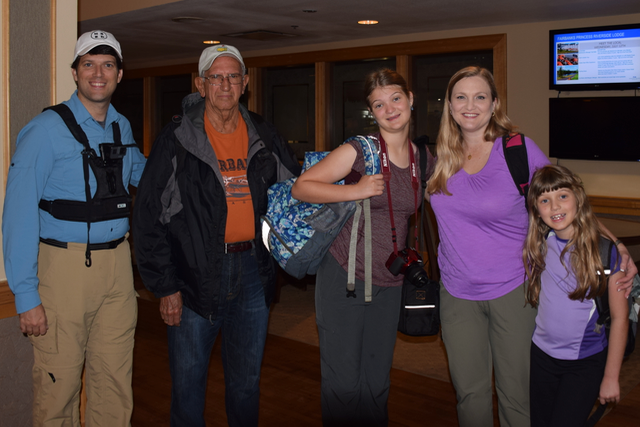 Our driver was named Carley, and even though she is from Idaho, she drives the coach in the summers to raise money for college. The scenery along the 2 1/4 hour ride was beautiful, and became more and more magnificent as we drew closer to Denali.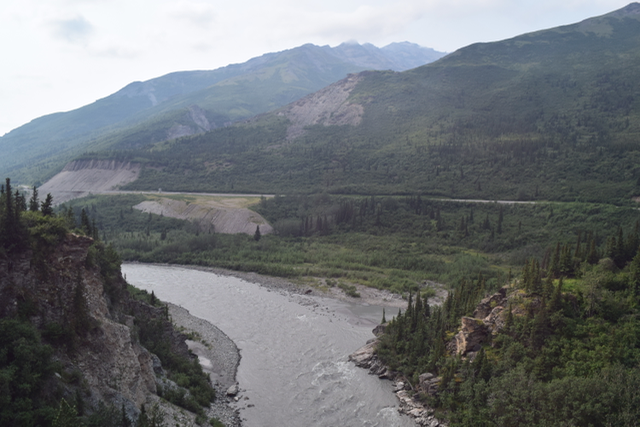 The initial part of the ride was fairly foggy, but that began to burn off as we got closer to our destination. The lodge is located on the Nenana River, and is one mile from the entrance to the park. It is also much more impressive than the one in Fairbanks. It is made up of many buildings that are all made of logs, and covers a much larger area.
We checked into our rooms and then grabbed a quick bite at the Lynx Creek pizza place on property. While waiting for our pizza, Kate and I walked down to the Nenana River to take some pictures.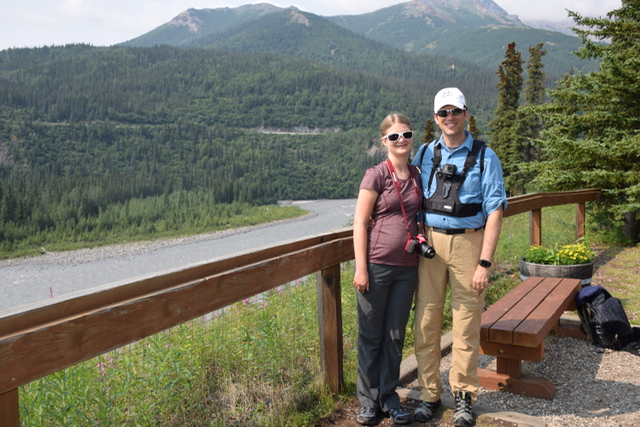 After lunch we boarded a Denali National Park bus and headed to the park for a natural history tour. Our driver and guide was named Dallin, and he is from Utah. He has been coming to Denali and working as a guide for the past 8 summers. He told us a LOT about the park over the almost 5-hour tour. While it was all interesting, some of it was pretty far over my head from a scientific perspective.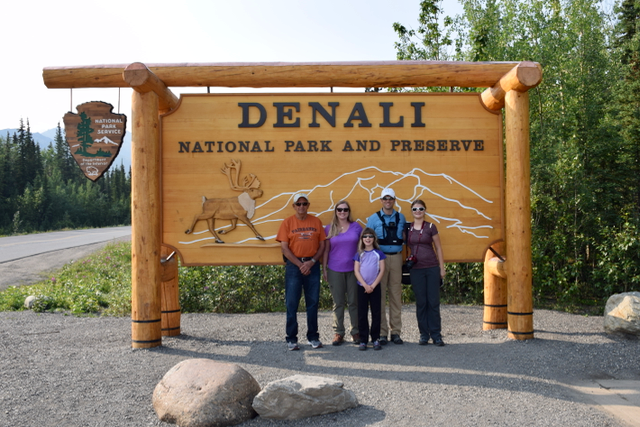 This was easily one of the most beautiful places I have ever seen. The park is roughly the size of Vermont, and contains 6 million acres. There is only one road for all of this property, the Denali Park Road, and it would take over 14 hours by bus to make the round trip.
Denali National Park is larger than any National Park in the lower 48 states (Death Valley has 3.4 million acres), but is only the third largest National Park in Alaska. The park "employs" 34 sled dogs that are used by rangers for accessing difficult parts of the land. We got to see one of these being taken for a walk.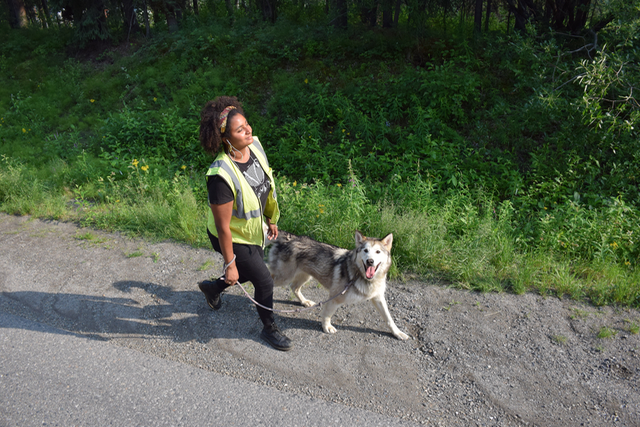 Along the way I noticed that as we would go up a mountain the trees would thin out and as we would come back down they would become dense again. Dallin explained that the tree line in Denali is at approximately 3,000 ft, which is much shorter than it would be in the lower 48 states due to being so far north (63.5º north latitude).
Unfortunately we were unable to see Mt. Denali, which is the tallest mountain in North America, and is the centerpiece of the park. This, however, was to be expected, since is almost always obscured by cloud cover. It was over 70 miles from our location, and is so large that it creates its own weather system.
As we were looking for Mt. Denali, the question regarding its recent name change came up. We found out that the name "Denali" is an Athabascan word that means "high one." The native Athabascans called this mountain Denali for over 2,000 years. However in 1896 a man named William Dickey "discovered" the mountain, offered to name it after presidential candidate William McKinley if he would publicly back the gold standard. He did, so William Dickey wrote a New York newspaper announcing his "discovery," and his naming it Mt. McKinley. The name was changed back to Denali in 2015, 40 years after the Alaska legislature originally requested the change.
I knew that it was originally Denali, had been changed to Mt. McKinley, and had recently been changed back to Denali. However, I did not know the circumstances regarding the genesis of the name "Mt. McKinley." After learning this story, I remembered the controversy regarding the name change in 2015, and can't believe anyone would object.
Along the route, we stopped at Savage Cabin, which was named for the nearby Savage River. The Savage river is glacially fed, and had very little water in it. It is called a "braided river" because the mixture of water and sediment look like braids. The sediment has been brought in by the glaciers.
Along the trail to the cabin, we learned about the monks hood wildflower, which is deadly. There was quite a bit of this on the trail, and it freaked Sara out.
At the cabin, there was a brief presentation. It was finished in 1925, and was the dining hall for men that built the park road. It was also used by rangers during patrol with sled dogs. The park road took 17 summers to complete. One interesting thing was that there were 3 inch nails sticking out around the windows. They said this was to keep bears from climbing in through the windows.
Back on the bus, Dallin told us that Denali National Park got 600,000 visitors last year. This is significantly less than most National Parks, but all visitors came in a 4-month period with only one road. At mile-15 we were stoped at Savage River, and a park ranger named Dexter boarded our bus for a short talk. Only park buses are allowed to pass mile 15 of Denali Park Road. The only exception is for RVs that are allowed to stay for 3 nights at mile 29. They are not allowed to move during that time.
The father of Denali National Park was Charles Sheldon, who originally travelled to the area to see the Fall Sheep. The park was originally a nature preserve for the sheep. He saw that the area was being over hunted, and worked for many years to protect the land. It was designated Mt. McKinley National Park on February 26th, 2017 with 2 million acres (The National Park Service only formed one year earlier). This year marks the 100th anniversary. The original footprint is now a "designated wilderness," which is an even higher level of protection than a National Park.
There are only 35.5 miles of trails in the park, but all other land can be freely accessed on foot. Backcountry camping requires registration and training. The park gets about 80 inches of snow per year, and is not more because moisture is blocked from the ocean by the mountains.
There are 72 wolves in the park, which is about half capacity. The small number is due to short growing season. Life span of the wolf is 5 to 7 years. This is because they are always fighting for dominance with each other and also fight larger animals like caribou and moose.
We got to see the Willow Ptarmigan, which is the state bird of Alaska. They are brown in summer and white in the winter. During the winter, they grow feathers on their feet that act as snow shoes.
We made a couple of stops to see the beautiful landscape, and at a place called Primrose, we listened to a presentation about the native Athabascan people. This presentation was given by Jasmine, who is of Athabascan descent, and is currently a cultural interpreter in the park.
We learned that the Athabascan people were one of 5 native cultures that inhabited Alaska. The Athabascans were located in the interior of Alaska, and spoke 24 different dialects. We learned that the term "Eskimo" was originally a derogatory term for the native people of Alaska.
After our tour of the park ended, we went back to the room to pack up for tomorrow, and then had a nice dinner at the King Salmon restaurant, which sits right on the Nenana river.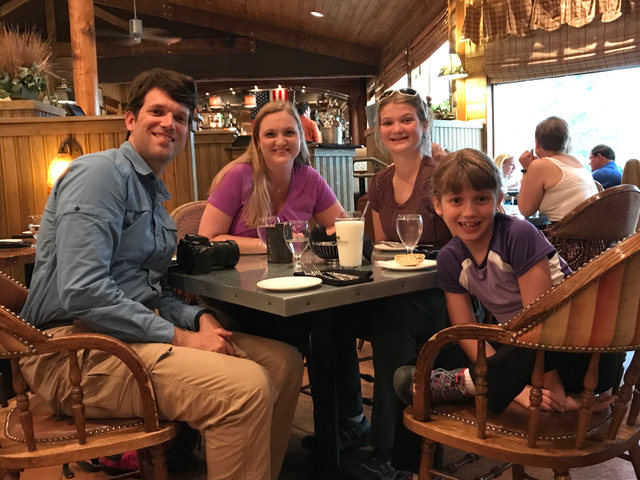 Tomorrow we have some free time, so we are planning to head back to the park for some hiking and maybe to see a sled dog show.