This time last week I was pleased that my hip issue was doing lots better. Well, it is still largely better than it was, but is still something that continues to flare up. Not too bad as long as I keep it stretched out. Here's a quick rundown of the past week:
Thursday
After taking the previous week off at track due to my hip issues, I came back to track last Thursday night. The humidity ended up being pretty nasty, though the temps were thankfully only in the mid-80s. Here was the workout:
Approx 1-Mile Warmup
6 x 100m Stride Outs

3 x 400m fgf (200m / 400m) – 1:29 / 1:21 / 1:23

1 x 800m g (400m) – 2:58
3 x 400m fgf (200m / 400m) – 1:25 / 1:20 / 1:24
Approx .5-Mile Cooldown
I probably ran most of these splits too fast, but did remain fairly consistent all the way through. Ideally I like to get in at least 2-miles warm-up before doing the stride-outs, but I was running late due to work responsibilities. Happy that my hip felt decent throughout.
Saturday
After taking Friday off, the group ran the vaunted 16.5-mile loop in Percy and Edwin Warner Parks on Saturday, starting at the Edwin Warner Nature Center. This is one of the hardest runs in Nashville, due to the extreme elevation changes:
I was quite nervous about being able to finish this one since my longest recent run has been 13.5-miles, and that was on fairly flat terrain. The humidity was tough, but we ended up getting quite a break in the temperatures, which never left the low 70s. I ended up feeling better during the second half of the route than I did during the first. My strategy throughout was to take it VERY easy on the downhills (to protect my legs), and push a little on the uphills. The best I felt all day was during our climb up 3-mile-hill in Percy Warner (was 13th mile on this run), and during the last mile where I tried to finish with a much quicker pace. Again my hip felt great throughout, and I was surprised at how good I felt overall throughout the run. I had never started the 16.5 from anywhere other than the main gates in Percy Warner, but this proved to be a nice change.
Monday
After taking Sunday off, Nathan and I did a VERY, VERY, chill 5-miler on the Vaughn's Gap Cross Country Course in Percy Warner Park. It was a pretty humid, partly cloudy morning, and the sky was quite beautiful during sunrise: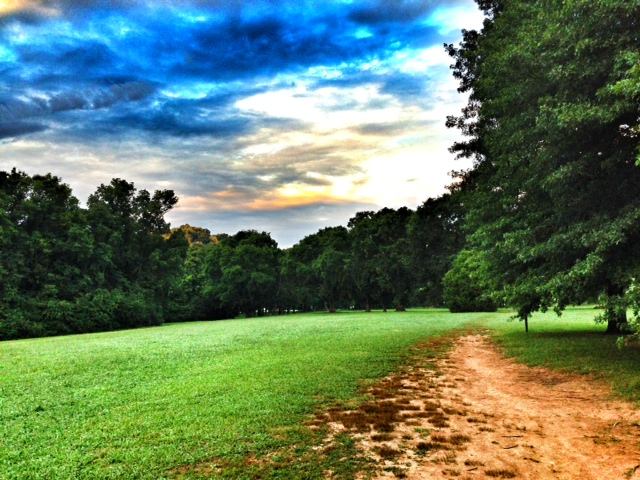 Unfortunately, my hip was very stiff after the long run on Saturday. This slowly subsided throughout the run, but it was more bothersome than it had been in several days. Overall though it was a good shakeout run on a nice, soft surface.
Wednesday (Today)
To "celebrate" the final birthday of my 30s, I did the Percy Warner 11.2-mile main drive loop. Incidentally, this route is fully contained within the 16.5-mile loop mentioned above, so this made twice in the past five days. That's a lot of elevation change for my already trashed legs:
Wednesday is normally an off-day, but since I didn't get to run on Tuesday, I decided to do a run this morning. I wanted to get in 8 to 10 easy miles, but for some reason I let Nathan convince me to join him and some other friends from our group (Dan, Dawn, Mary, Lesley) to do the 11.2 this morning. I'm no meteorologist, but I'm pretty sure the humidity was around 7,454%. I don't think it is possible for the humidity to be any higher without it actually raining (it did rain before and after our run). Nathan and I commented several times that the moisture was so heavy in the air that it looked like we were running through the rainforest. Nathan even said that he half expected a T-Rex to jump out since it looked like Jurassic Park.
Anyway, this humidity was suffocating, and I slowly wilted throughout the run. Things felt ok for the first 6 to 7 miles, but then I just hung on for dear life the rest of the way. Dan had started early from a different spot, so he finished within the first 4 miles of the loop. Once I started to fade, Dawn, Mary, and Lesley pulled away, but thankfully Nathan stayed with me. I know he could have easily kept up with them, but there is no way I would have finished without walking had he not hung back.
All-in-all it wasn't the best run, but I'm glad to have finished. My hip was still bothersome, but at least it didn't affect my stride. Hopefully I can get it really stretched out before track tomorrow night.
Beast Mode….ON!