At the start of this post, I want to acknowledge the school shooting that took place at Covenant School this morning just after we arrived in Washington D.C. Covenant School is less than two miles from the Lipscomb Academy Lower School where my wife Olivia works, and less than three miles from the Upper School where both Kate and Sara attend. Learning about this during our day was overwhelming, and difficult to deal with emotionally. This was especially true considering the many connections those in the Lipscomb family have with the families who lost loved ones. While we still enjoyed our day in D.C., it understandably cast a heavy shadow. I cannot comprehend this act of evil nor the loss of these precious souls. My heart hurts and my prayers will be continually lifted for all involved.
This week I am accompanying Sara while serving as a chaperone for the Lipscomb Academy 8th Grade field trip to Washington D.C. I was able to go on the same trip four years ago with Kate, and am thrilled to be going again with Sara. Olivia dropped us off at the airport at 5:30am to meet up with our group of approximately 125 students, teachers, and chaperones. The group was split into two flights (Southwest & United), leaving at two different times, and flying to two different airports (Reagan & Dulles). Even with all of this going on, the process of getting boarding passes and navigating through security was pretty smooth. Kudos to Bob Rodgers Travel, Southwest and United Airlines for having everything ready to go!
After getting through security, Sara and I grabbed some coffee/hot chocolate at 8&R while we waited for our departure. BTW, their coffee is amazing, and I'm a bit of a coffee snob. The flight left on time at 7:50am CDT, and arrived in D.C. around 10:15am EDT.
After everyone got their bags, we loaded the busses, and headed for a mall near the Pentagon for lunch. On the bus, we met our guide Liz and driver Alisha. On the short drive to lunch, Liz explained how Washington D.C. was built on a swamp and that many of the fountains present at various memorials are to help control flooding.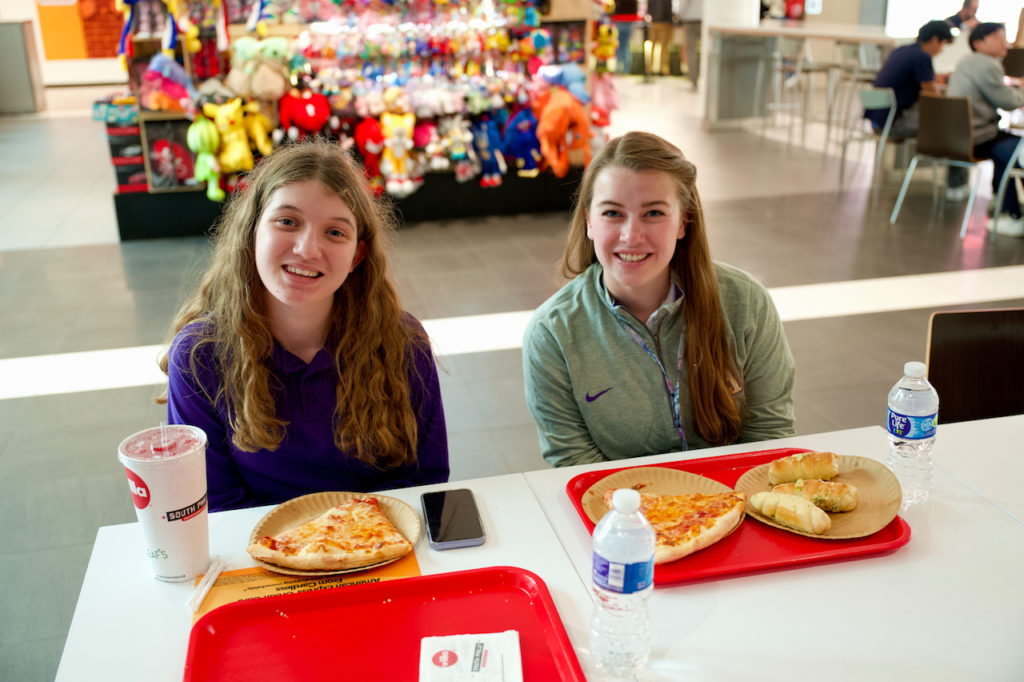 Our lunch was at the mall food court, and we were given a long lunch time, because we had to wait for the people on the second flight to arrive. My group has four girls (including Sara), and my co-chaparone is my friend Laura. She and I also chaperoned together on the trip four years ago.
Next we boarded the buses again and made our way to the African American History Museum at the Smithsonian. Along the way Liz told us a little more about D.C. history. She talked about the placing of the capital after the Revolutionary War, and the origin of the spoke and wheel design of D.C. streets. She also told us that the number one profession in the D.C. metropolitan area is lawyer. There is one lawyer for every 17 people in D.C.
After arrival at the museum, we had a bit of a wait because they were running about 30 minutes behind on their timed tickets. This was my second time to visit, and it is a great museum, but is very, very heavy. Along with the Holocaust Museum in D.C., these two museums help to show the capacity for evil inside of mankind, and can be overwhelming.
This is the newest of the Smithsonian museums, and was opened in 2016. Once inside, two of our groups joined up and briefly visited an exhibit on the second level where we took a quick picture of the kids in front of an old Buick. Next we haded down to the main part of the museum which is a chronological history of African Americans and "The Journey Toward Freedom" beginning in the 1400s and continuing through present day over three levels.
We did not have a lot of time to spend here, but even in our short time there were so many things that stood out. Here are a few examples:
One section presents the horrific conditions of the boats that were used to transport slaves from Europe and Africa across the Atlantic to America. The conditions were so awful that many slaves took their own lives during the journey. In the middle of this exhibit there was set of stocks that had been uncovered from a slave ship that had been fashioned for children. They are pictured above, but the lack of perspective doesn't show how small they were. I did not notice this detail last time I was here, and it really hit me today.
Another section focuses on the number of slaves that were transported to America from various countries in Europe and Africa. This has been something that has overwhelmed me both times that I've been here. Many 10s of millions of slaves were transported to America. Consider the picture above showing that 5.8 million came from Portugal alone. Unfathomable!
This statue of Thomas Jefferson was standing on a platform that read "The Paradox of Liberty". The point was that the "Liberty" fought for in the Revolutionary War was not for all people. Jefferson was the one who wrote, "Life, Liberty, and the Pursuit of Happiness," yet he owned 609 slaves during his lifetime. The statue of Jefferson is in front of bricks that carry the names of specific slaves he owned. I do not remember noticing this last time, and it was striking today.
This is jumping ahead a bit, but I was overwhelmed by the section focusing on Jim Crow laws that segregated white people from African Americans. Reading about how this was used for water fountains, bathrooms, soda counters, and so many other things was just heartbreaking.
The culmination of this is a section of an old segregated first-class railcar. One of the staff members explained that this train section had been lowered into place before the structure of the museum was build. It was literally built around the train.
The final thing I'll mention is the Emmett Till memorial where they have the casket he was originally buried in. This is the same casket that was opened by his mother to show the public what violent abuse he had suffered at the hands of the two men in Mississippi who had killed him. This story is heartbreaking, but it also highlights how it inspired many like Rosa Parks to ultimately take a stand and draw attention to the Civil Rights movement. (FYI – They do not allow photography in the memorial).
At the end of "The Journey Toward Freedom" is a beautiful fountain surrounded by quotes. Once we finished this part of the museum, we only had about 15 minutes left, so we quickly went to the fourth floor where they have a number of artifacts related to music, film, theater, and television.
We didn't get to see much here, but I did snap a quick picture of this Cadillac Eldorado owned by Chuck Berry.
This is a little bit of a side road, but I've always found taking a good photograph of the Washington Monument to be quite a challenge. It is a really tall obelisk in the middle of on open field, and if you just take a straight shot of it without anything to frame it, the results always look awkward to me. Anyway, as we were leaving the museum, I saw this angle where it was perfectly framed by trees with a little color in the foreground. The sky was blah, but I still thought it worked pretty well.
Anyway, our next stop was dinner a Buca Di Bepo. This was again a very smooth experience and the food was quite good. I sat at a table with several chaperones, and had a very nice conversation with Jeff. After dinner, Jaman, the Lipscomb Academy Campus Minister, talked to the group about the tragedy at Covenant School earlier in the day (as mentioned above). I won't go into the details of what was said, but he emphasized the instructions of Peter in 1 Peter 5:7 to cast your cares before the Lord. In times like this, we can take whatever is on our hearts and lay it before the throne of God.
After dinner, we drove to the Kennedy Center for a quick tour. Upon arrival, one of the other guides, Katherine, told us a little about the facility and what we would be seeing before we entered.
Our first stop was the "Hall of States", that includes the state flag of every State in the US. There was also a lot of really cool artwork in the area.
Next we visited the Grand Foyer, which is so long that if you laid the Washington Monument on its side, and placed it in the foyer, there would still be 60 feet of space left.
In this lobby, we also saw a beautiful bust of John F. Kennedy for which this center is named. Katherine pointed out that at each end of the Grand Foyer is a "Millennium Stage" where they have free performances daily, 365 days a year.
Next we went to the "Hall of Nations" which contains a flag from every country with which the US maintains diplomatic relations. Katherine pointed out that unfortunately these flags do get changed out from time to time.
Our final stop was the terrace at the top of the facility which had a beautiful view of the Potomac River, the Mall, and into Virginia. We took a group shot against the sunset.
I also took a shot of Sara with the Lincoln and Jefferson Memorials in the distance.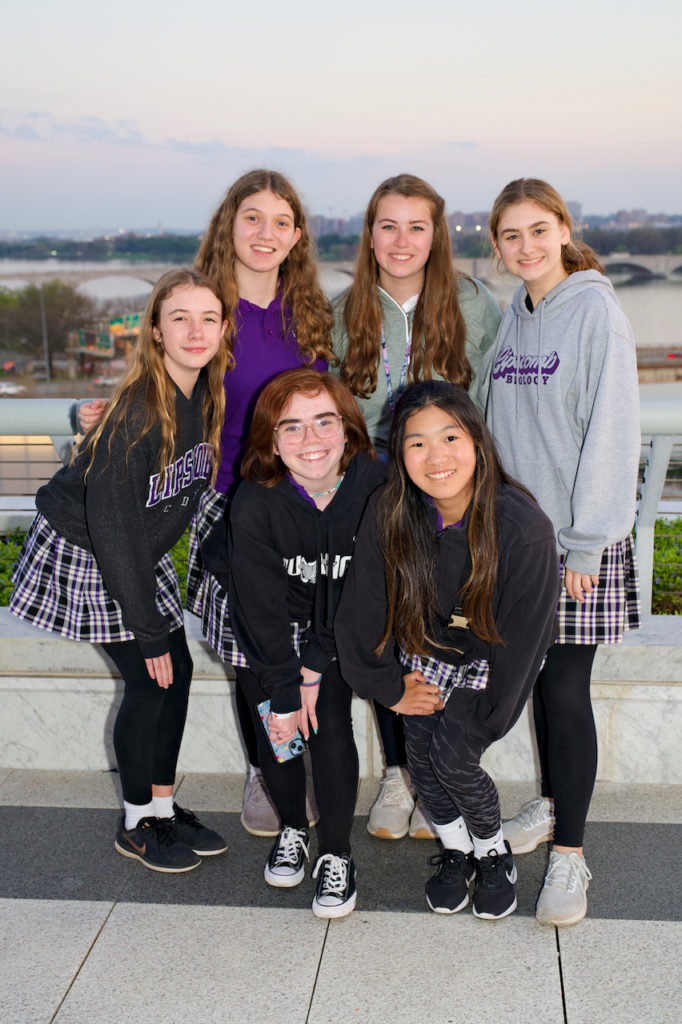 …and with a group of her friends!
I also got one of the kids to take a picture of the two of us!
After all of this, everyone was exhausted! We made it back to the hotel around 8:30pm and eventually got all of the keys distributed and the kids into their rooms. Tomorrow we have a BUSY day with visits to the US Capitol, the Museum of the Bible, and many memorials!