I'm currently in the middle of week 12 in my training for the 2013 New York City Marathon. Last week was my first after completing the "return to running" program from my doctor, and this week I began my official training plan for NYC (more on that in a minute).
Week 11
On Thursday, Friday, and Saturday of last week (4th of July weekend), we had a LOT of rain in Middle Tennessee, which is quite unusual for July. On Thursday I met several friends for 7-miles of trails in Percy Warner park in a downpour. The trails were pretty nasty, but overall the footing was decent. I stayed strong through the first couple of miles, but then my lack of fitness started to show on the very hilly route:
I ended up walking up several of the more severe climbs just to be able to finish. Even though the conditions were tough, and I am not in ideal shape, the park was really quite beautiful in the rain. I am very fortune to live so close to such an awesome place to run and to have great friends to share it with (even in a downpour):
With Brian, Marc, Josh, and Mark after the (very wet) trail run
After a very easy recovery run with Nathan on Friday (also in the rain), I had my first tempo workout on Saturday since returning from the injury. This was also done in a downpour in Percy Warner Park with my regular running group. We got in 10 total miles, with approximately 45 minutes of tempo intervals. I ran all of the intervals with Brian and Nathan, and ended up feeling MUCH better than I expected, even though I almost tossed my cookies during one of the more intense efforts.  It was a very good morning with a very dedicated group: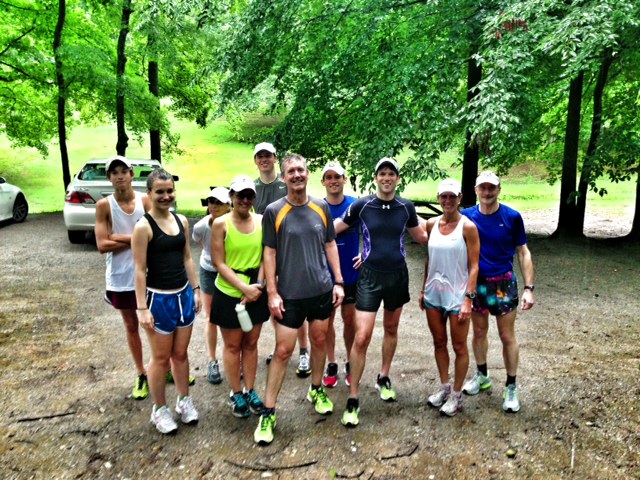 At the end of last week, I finally mapped out my training schedule for New York, which is an 18-week plan, and will generally follow the pattern below:
Monday – 

60 to 70-Min Easy (Trail or Road)
Tuesday – 60 to 90-Min Tempo Intervals / Easy Run (alternating weeks)
Wednesday – Rest
Thursday – 6 to 8-Mile Track Workout
Friday – 40 to 50-Min Easy
Saturday – Long Run / Marathon Tempo Workout (alternating weeks)
Sunday – Rest
Week 12
In keeping with my new plan above, on Monday Nathan I did an easy 7.5-mile run on the Harpeth River Greenway (including a new unpaved section) in the nasty heat and humidity. My legs felt pretty toasty after the difficult effort on Saturday, but I was glad the get this one done. At the end we did 4 stride outs as I continue to try and incorporate more up tempo work into my training. Sometime during this run (maybe during the strides), I must have tweaked my left hip, because it started aching later in the day. It is still there today (Thursday) as I write this, but fortunately it is one of those "injuries" that gets better as I run, which does a lot these days to ease my mind, since I am so fearful of another stress fracture.
On Tuesday, Nathan and I did a tempo interval workout that consisted of :
20-minute warmup
6 x 4-min (7:15 to 7:20 pace) / 1-min recovery jog
10 to 15-minute cooldown
The heat and humidity was again very nasty, which made the workout difficult. My legs didn't feel nearly as good as they did during Saturday's workout, but I still managed to hit the goal pace during the first 4 intervals. I faded during the last two, but still kept them in the 7:40 range. Overall, I was pretty happy with the effort.
After a rest day on Wednesday, I returned to track tonight (Thursday) for the first time in over 16 weeks, and it was humbling on a hot and muggy evening. We started right off-the-bat with a 2000m interval, which punched me right in the mouth. I was only able to complete the first 3 sets of the workout, before pulling out and jogging a few easy laps to cool down. It was one of those nights where I left angry at how much fitness I have lost, and how miserable I felt. However, I know this is only the beginning of a long training schedule, and am determined to come back stronger than ever.
Beast Mode….ON!