My intention was to wake up early before worship service this morning and knock out a 6-mile easy paced run. However, I couldn't get myself out of bed, so that meant I got to do the run this afternoon.
Early this morning it was in the low 50s, but when I started at 2pm it was in the 70s with full sun and high humidity. I was already tired from yesterday's 10-miler, but the addition of the heat and humidity made this a miserable run.
I parked at the entrance to Percy Warner Park and ran through the streets of Belle Meade, mostly on Belle Meade Boulevard. I mentioned in yesterday's post that my objective leading up to the start of St George training to practice my target paces. For an "easy" run, my range is 8:26 to 9:05 per mile. This topic leads to the strangest thing about today's run. As awful as I felt, I was still too fast of 3 of my 6-miles…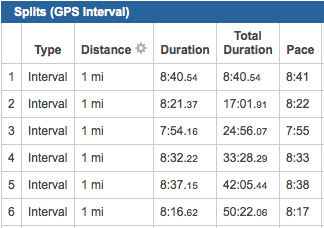 This is baffling to me. I wasn't intently focused of my watch today, but when it would beep at the mile splits I was shocked when I saw that it was too fast. Ever since I came back from the half marathon in Indy, I've been inexplicably pushing the pace on most of my runs.
Anyway, even though I paid the price for my lack of discipline in getting up early, at least I got the run done today. Also, because I count my "running week" from Monday to Sunday, this was my first 5-day-week since coming back from my latest injury.
Beast Mode….ON!