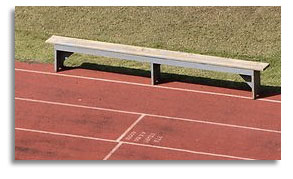 I have been surprised how helpful and accommodating people have been when they see me in a boot. This weekend I flew up to see my terminally ill Grandfather. When I was at the airport people would practically run across rooms to help me. While I appreciate the help, it did sort of make me wonder, 'where were you when I was flying 7 months pregnant trying to fold a stroller with one hand, manage luggage with the other, and keep up with an over-excited 3 year old?'
Some people have been a bit over-helpful. I was offered a wheelchair on more than one occasion. And going through security, they offered me a cane. Yep. A cane. 7 days ago I ran 10 miles. Don't think I need a cane, thanks.
So it rained this weekend. Not wanting to get mud from my parents un-paved driveway all over my boot, I tied a plastic bag over it. Ahhh, the target bag over the robo-boot. The look that says…I give up. We went for coffee and the barista asked me
So, how does it feel to have to wear a plastic bag on your boot to keep it from getting wet?
It feels awesome. Really, really great. Thanks for asking.
People are funny. And awkward. But mostly nice. I am thankful for the people in my life who can laugh and cry with me. The ones who love me even if I have a Target bag on my foot. The ones that know I don't need a cane, but maybe a hug. Just not from a stranger.
-Olivia