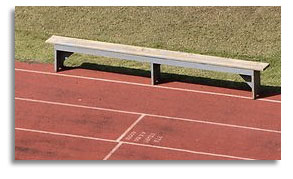 This has been a hard week on the bench. No cross-training completed. NONE! Some of it has to do with business travel. Some of it has to do with Olivia being in Michigan the past three days to be with her sick grandfather, and having to take care of the girls. However, I could still have done some cross-training had I wanted to. The real reason I haven't done any cross training is because of frustration and anger over being injured again, and allowing excuses to win out over training.
This was brought to a head earlier in the week when Olivia was also diagnosed with a stress fracture, and will also have to miss the St. Jude Country Music race later this month. Both of us love running and racing, and it is so disheartening to work this hard and then not be able to do the thing we love. In an instant we go from peak condition, and ready to engage beast mode, to sitting on the bench.
I'm not a Kobe Bryant fan, but last night when I heard about his torn achilles tendon, I remember thinking that he must feel the same way times a million. This morning, most major news and sports sites were commenting about a Facebook post he made regarding the injury. I have copied it below with the expletives deleted:
All the training and sacrifice just flew out the window with one step that I've done millions of times! The frustration is unbearable. The anger is rage. Why the [deleted] did this happen ?!? Makes no [deleted] sense. Now I'm supposed to come back from this and be the same player Or better at 35?!? How in the world am I supposed to do that??

I have NO CLUE. Do I have the consistent will to overcome this thing? Maybe I should break out the rocking chair and reminisce on the career that was. Maybe this is how my book ends. Maybe Father Time has defeated me…Then again maybe not! It's 3:30am, my foot feels like dead weight, my head is spinning from the pain meds and I'm wide awake. Forgive my Venting but what's the purpose of social media if I won't bring it to you Real No Image?? Feels good to vent, let it out. To feel as if THIS is the WORST thing EVER! Because After ALL the venting, a real perspective sets in. There are far greater issues/challenges in the world then a torn achilles. Stop feeling sorry for yourself, find the silver lining and get to work with the same belief, same drive and same conviction as ever.

One day, the beginning of a new career journey will commence. Today is NOT that day.

"If you see me in a fight with a bear, prey for the bear". Ive always loved that quote. Thats "mamba mentality" we don't quit, we don't cower, we don't run. We endure and conquer.

I know it's a long post but I'm Facebook Venting LOL. Maybe now I can actually get some sleep and be excited for surgery tomorrow. First step of a new challenge.

Guess I will be Coach Vino the rest of this season. I have faith in my teammates. They will come thru.

Thank you for all your prayers and support. Much Love Always.

Mamba Out
I realize I'm not an elite athlete being paid millions of dollars to compete like Kobe, but I feel the same roller-coaster of emotions that he expresses in this post. I KNOW this is nothing in the grand scheme of things, but it is still frustrating, and I still feel anger. I KNOW I want to work hard to overcome this, but questions fill my mind. At 38, is it possible to ever set a PR again? Qualify for Boston? Train hard without getting a stress fracture? I DO NOT KNOW!
Well, it is time to break out of my slothfulness, and get back to work. Thanks for letting me vent for a minute. Gonna take the girls out to the park for a hike before heading to pickup Olivia from the airport. Next week will be a better week.