Today's Run (Day 39)
After a schedule rest day yesterday (Day 38), today continued Week 6 of my "Return to Running" program, which includes:
3 to 5-minute walking warmup
25-minute run /1-minute walk
15-minute run / 1-minute walk
10-minute run / 1-minute walk
3 to 5+ minute walking cooldown
I met Paxton at Bellevue United Methodist Church, and we ran a big loop through the surrounding neighborhood, the Harpeth River Greenway, and Edwin Warner Park. The temperature at 6am this morning was 78°, which I think is the highest for an early morning run so far this year. I could definitely feel the heat and humidity during the run, but we were saved a bit by a consistent breeze. We kept the pace pretty chill throughout, though it was a bit quicker than Tuesday's effort. I was tired by the end, but overall my legs felt fairly decent today. In total we finished 50 minutes of running and just under 8 minutes of walking for a total of 6.11 miles completed.
Miles: 6.11
Time: 57:48
Pace: 9:28
Shoes: Saucony Kinvara 3 (#8)
Route: BUMC / HR Loop
2013 ING New York City Marathon Confirmation
Even though I already knew I was in the NYC Marathon this fall, it was still cool to get this email last night: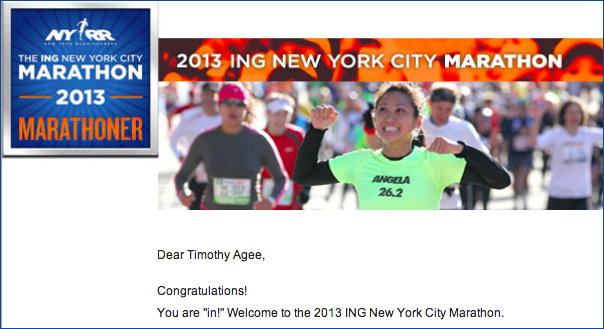 Cross-Training
Balance Squats x 25 reps (each leg)
Calf Raise Squats x 25 reps (2 x 20lb dumbbells)
Wall Squats – 90 Seconds
Step-Back Lunges x 15 reps (each leg with 2 x 20lb dumbbells)
3-way lunge x 15 reps (each leg)
Chair Salutation x 2 (30 sec each)
Toe Roll Iso Lunges x 20 reps (each leg)
Hip Hike 2 x 30 reps (each leg)
Monster Walk with Band 3 x 12 reps (each leg)
Clamshells with Band 2 x 15 reps (each leg)
Toe Flexor x 75 reps (each leg)
Dorsiflex Raises x 75 reps